The OTHER Penthouse
As you browse through movie and TV listings, you will be surprised to find the Penthouse imprimatur where you don't think it belongs. When you see it, chances are that you are seeing a listing for a Penthouse that existed before Bob Guccione's Penthouse, and that still seems to exist. I originally posted these little mini-essays at my Caligula page, but when I learned that these had no relation at all to Penthouse magazine or any of Bob Guccione's other ventures, I deleted them. Rather than let all that research go to waste, I post it here. This other Penthouse was operated by Florence Small (president), Alan M. Surgal (chair), and Jon Surgal (vice president in charge of production). It began producing in 1960 or 1961 for an NBC series called The Shari Lewis Show. When Guccione founded his Penthouse, there was talk of changing this TV-production studio's name, but the decision was ultimately made to retain the name, come what may.
THE SECRET NIGHT CALLER (1975)
Penthouse Productions and Charles Fries (pronounced "freeze") Productions coproduced an NBC TV movie called The Secret Night Caller, which was broadcast on Tuesday, 18 February 1975, and repeated in the same time slot on Tuesday, 24 June, of that year. Decent cast, I must admit that: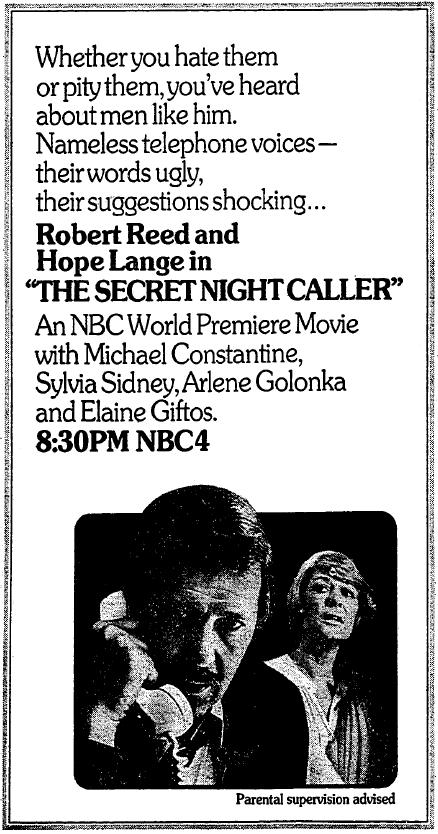 THE SHARI SHOW
Penthouse also coproduced, with Tarcher Productions Inc, the first nine-episode season of the children's series, The Shari Show, produced at WMAQ-TV Chicago for broadcast not on all NBC affiliates, but only on the five NBC-owned TV stations. Shari Lewis's inspiration to create this program was her abiding disgust with the execrable quality of children's programming, and especially animation ("The quality of animation is so bad now something must be done" [Steve Brown, "Public Outcry over 'Pap' Revives Shari's Puppets," The Chicago Daily Herald, 27 September 1975, p 31]). She was not an animator, but she was a celebrated puppeteer, and so she fought back against the flood of rotten TV shows by creating something new. Apart from the perennial Lamb Chop, this series would feature exclusively new characters, and would be, she hoped, entertaining for adults as well as for their children. The out-of-town crew housed themselves at the just-opened Hyatt Regency, hence the plug at the end of each program. Originally 12 programs were planned (according to the Frank S Swertlow UPI story, ca 11 June 1975), but three were dropped for whatever reason. The episodes were taped in the summer of 1975, the editing was completed by late September, and the preview aired Monday evening, 6 October 1975, in Los Angeles and Tuesday evening, 7&nbsp October 1975, in New York City. Inexplicably, the episode chosen for the preview presentation was the final episode of the series. Each episode was considered a "special presentation," and the air dates were Tuesday afternoons, 21 October 1975, 11 November 1975, 9 December 1975, 13 January 1976, 10 February 1976, 9 March 1976, 13 April 1976 (Is Everybody Happy?), then Monday mornings, 10 May 1976, 13 September 1976 (presumably the already-previewed final episode), and repeats began early Saturday morning, 25 September 1976, as a regular series. Just when we think we're done with it, something strange happens on Tuesday, 5 October 1976, when NBC airs a "special presentation" of the "Season Premiere" of The Shari Show followed by more episodes on Thursday afternoon, 25 November 1976, Tuesday afternoon, 14 December 1976, and so on all through 1977 and presumably beyond.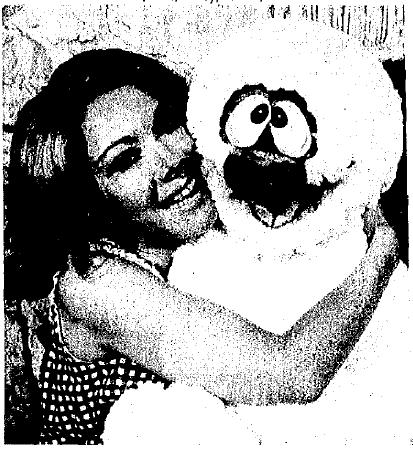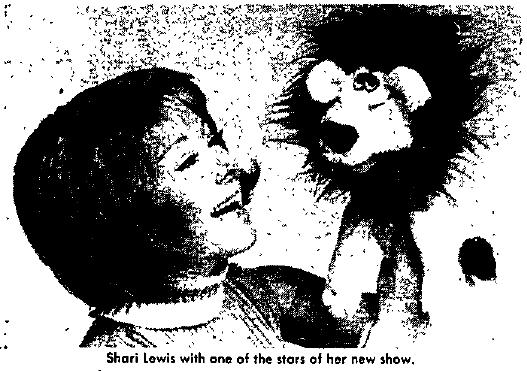 The IMDb's listings are not quite right, but they're not too far off either. Specifically, the IMDb states that Penthouse worked on these eight episodes: Bear on the Air, Captain Person Gets His Hopping Papers, Give the Big Girl a Little Hand, Is Everybody Happy?, Leave It to Lolly, The Story Person Show, To Hear a Pin Drop, and The Kissing Bug. As for the one remaining episode, There's Going to Be a Show Tonight, which Penthouse did indeed coproduce, the IMDb wrongly explains that Penthouse's only involvement was the DVD distribution, decades later. I purchased the DVD, which was distributed by Digiview Entertainment, not Penthouse. (The Digiview staff did an admirable job with the disc itself, but a horrid job with the publicity. The front cover features an older Shari, and the back cover wrongly boasts the appearances of Charlie Horse and Hush Puppy, Shari's usual standbys who appear nowhere in this series.) It contains four of the nine episodes. The credits are, for me, the most entertaining part of the show. The end-credit scroll is fast, so fast that it's difficult to read. As soon as the Penthouse credit is about to reach screen, the speed of the scroll doubles, making the mention of Penthouse almost impossible to see. The reason for, I suppose, was not to spook parents with the Penthouse name. In the frame grabs below, you can see the dramatically increased interlacing problem resulting from that speed-up. Take a look:
You can read some more about the great Shari Lewis at The Paley Center's web site.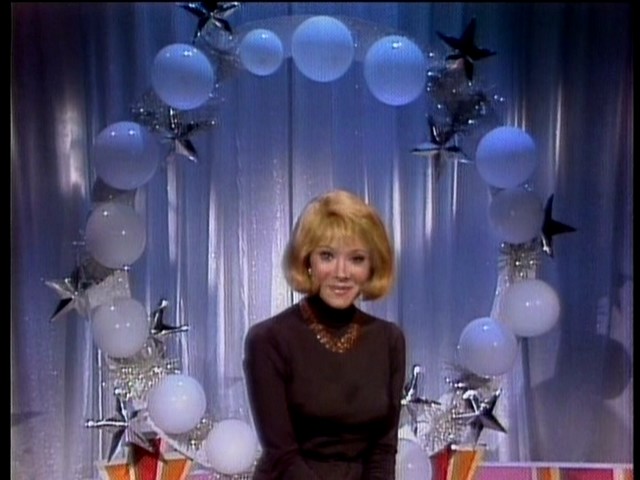 SECRETS OF THREE HUNGRY WIVES (1978)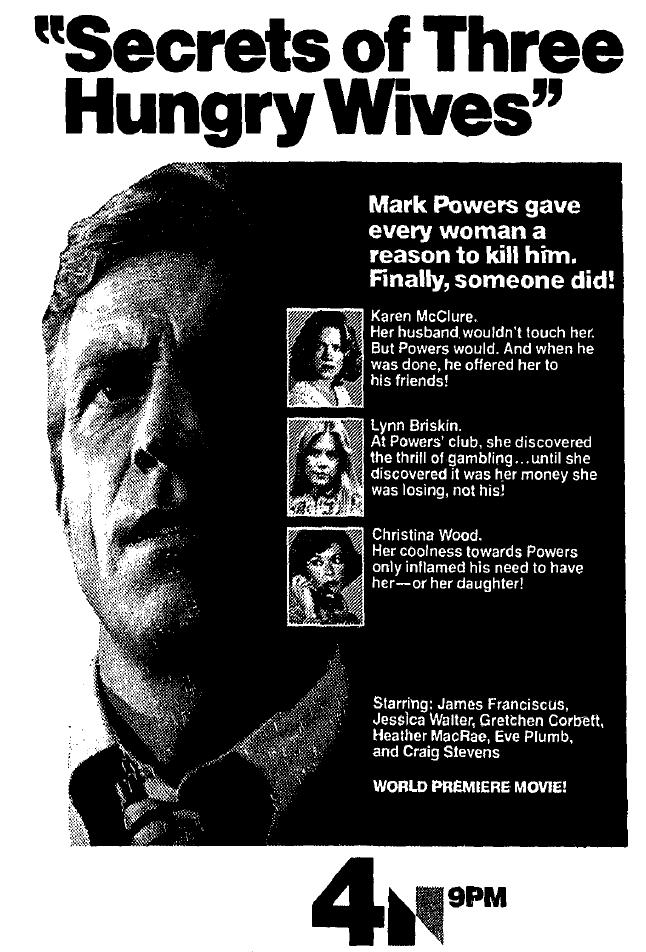 On Monday, 9 October 1978, NBC aired the made-for-television movie called Secrets of Three Hungry Wives. It was a copresentation of Penthouse Productions Inc and Cine Guarantors.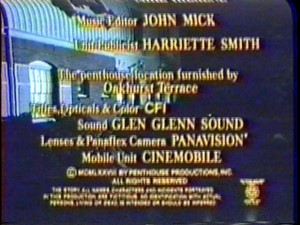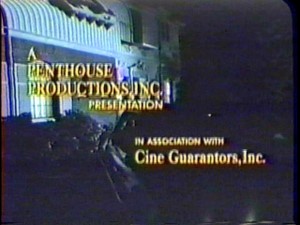 Back in the 1970s and 80s and 90s, did you ever wonder why so many of your home videos looked so funky, with the top of the picture bent over? In all those decades, I assumed it was something wrong with my TV. I was wrong. The fault was in the ¾" submasters. Not only that, look carefully at the very bottom: the image tears apart, a perennial problem with the ¾" U-Matic format. Most TV sets would have cropped off that fault, of course. To this day I'm flabbergasted by the nonchalance of quality-control departments. Also, the color on this VHS was so weak that I had to boost it in these frame grabs else they would look black-and-white.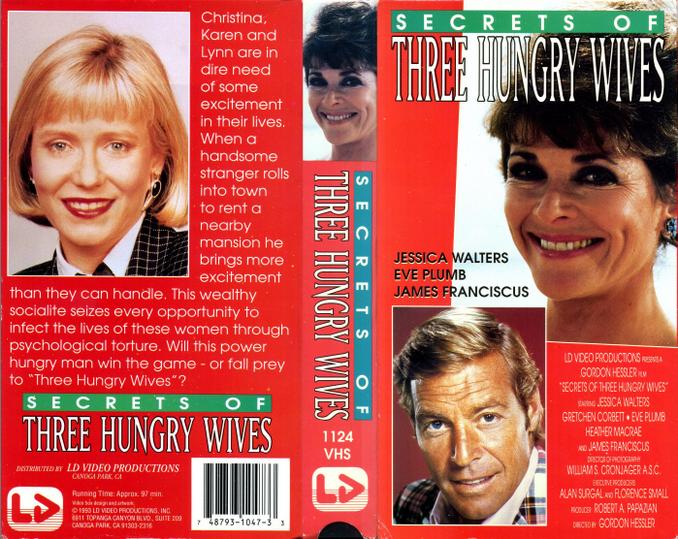 The VHS
THE GREAT CASH GETAWAY GIVEAWAY (1978–1980)
The Syracuse [NY] Post-Standard, Monday, 21 April 1980, p 39: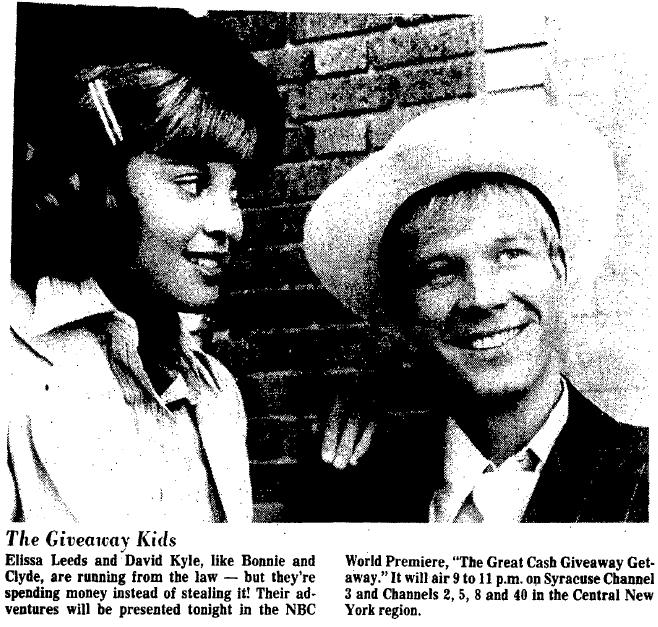 A year went by, and then on 22 October 1979 a movie was aired on English-language television for Americans stationed in Japan, and its title was The Magnificent Hustle. Repeat broadcasts continued in Japan for the next several months. A half-year after that, on Monday, 21 April 1980, "NBC Monday Night at the Movies" aired that same movie, but now under a new title, The Great Cash Giveaway Getaway (with Eddie Quillan? yes, that Eddie Quillan!!!).
I skimmed this movie, as I don't have the patience to watch it all the way through. Cute, though, I must admit, it looks really cute, and the two leads, David Kyle (too old for the part) and especially Elissa Leeds are adorable. The completely convincing heavy, Albert Salmi, later appeared in two of Gore Vidal's made-for-TV movies, Dress Gray and Gore Vidal's Billy the Kid.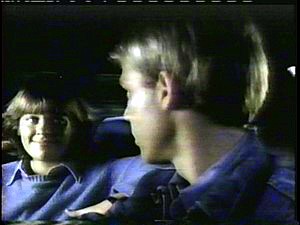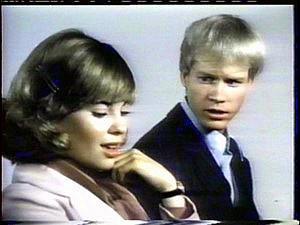 As you can see, the end credits state that this movie was copyrighted earlier, MCMLXXVIII, by Penthouse Productions Inc, once again in association with Cine Guarantors According to the IMDb, the working title was Grass Roots, but I can't find any specifics. This movie was repeated on the "NBC Late Movie" on Sunday, 15 June 1980. It went into syndication probably in early June 1982, for that's when a number of local markets began to air it as "The Magnificent Hustle (1978)," and that's the title that was used later for the VHS release.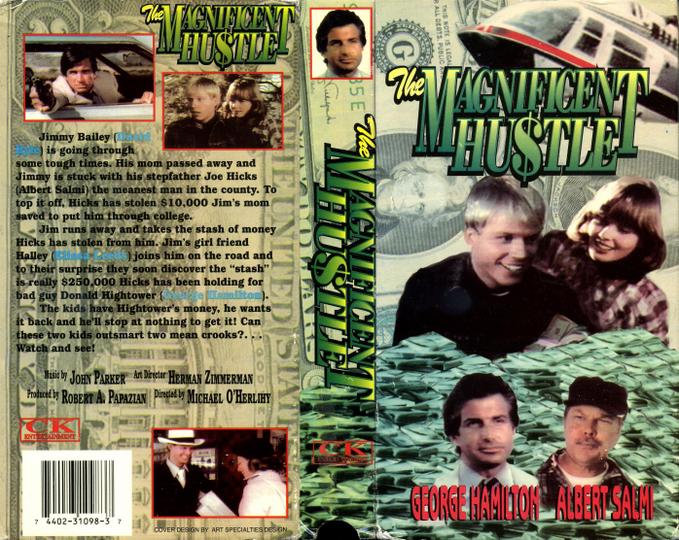 The VHS issued in 1993 by CK Entertainment
THE SECRET WAR OF JACKIE'S GIRLS (1980)
And then toward the end of that year, on Saturday, 29 November 1980, NBC aired a two-hour pilot called The Secret War of Jackie's Girls, coproduced by Penthouse Productions, Public Arts Productions, and Universal Television Entertainment. The cinematographer was William Cronjager, who had also photographed Secrets of Three Hungry Wives. No one bid on The Secret War of Jackie's Girls and so the TV series never came to be. The initial broadcast was not advertised in print; so here are two announcements of the repeat aired on Thursday, 2 August 1981:
I can't find a copy of this movie anywhere, though there are two clips available on YouTube: Clip 1 and Clip 2. So apparently somebody has a copy. Looks pretty hokey, but nonetheless I want to see it.
On the evening of Sunday, 15 July 2012, I was delightfully surprised to receive an email message:
Hiya,


I just ran across your reference to The Secret War of Jackie's Girls, an NBC pilot that aired in November of 1980 and thought I'd fill in a little bit more of the story. You list it on your web page at http://rjbuffalo.com/small_surgal.html


I was an advertising copywriter in NYC when I ran across a story about America's women pilots of WWII... a highly classified project. They were called the WASPS. A quick search will show you the real story is an amazing one about women who served the country by releasing men pilots to go fight... the WASPS flew every plane the men flew.... ferrying planes from factories to airfields, towing targets for male pilots to train on, flying experimental planes with names like "Widow Maker" into airfields to shame the men into going up in them. Towards the end of the program they were serving as instructors to the men. Recognizing the power of the story, my co-writer and I researched their fantastic stories and wrote a TV proposal and outline. We started taking it around to find a producer. Then a wonderful thing happened. (Remember this was the 80's when women were breaking out of typical roles.) Secretaries and assistants took over and made sure the story got to the right desks.


And so the proposal was picked up, we were paid, and then it all went bad. The producers proceeded to turn a wonderful true story with legs into a trite mish-mash of women pilots in an English manor who flew helicopters. The production and plot was so bad it would never have been aired were it not for the writer's strike. The networks were scraping the bottom of the barrel looking for content and dragged out "Jackie's Girls". To the best of my knowledge it aired twice. It was ghastly, embarrasing and disturbingly bad. (Everybody's opinion, not just mine.) So much so that I would love to know the story of what happened between the time they bought the "idea" and then made up something totally different. I mean American female pilots, in a fake English manor house, flying helicopters (that were not developed for military use until after the war) go figure. Arrogance and stupidity converging with the expected result, I guess.


Anyhow, thanks for the jolt down memory lane. Jean Kondek


PS are you in Albuquerque?
Coincidentally, not long after I heard from Jean, I heard from another reader who referred me to this site: http://www.rarewarfilms.com/index.php?route=product/product&product_id=252.
THE TWO LIVES OF CAROL LETNER (1981)
The Ukiah [CA] Daily Journal, Sunday, 11 October 1981, p 18:

The New York Times,
Sunday, 11 October 1981, "The Guide," p 10:

This was announced by Lee Margulies in "Update," The Los Angeles Times, 29 March 1981, p O5, as Dial 911:

The movie aired under a new title, The Two Lives of Carol Letner, as the "CBS Special Movie Presentation" on Wednesday, 14 October 1981. I don't see anything about a rebroadcast. Shall we check to see what IMDb has to say about it? It was predictable:
Company: Penthouse One Presentations
Apparently in the UK this was once broadcast under the original working title, Dial 911. If you know where we can see this movie, please let me know. Thanks a whole bunch!
#30#