Now, because this map is from satellite images, and thus not merely two-dimensional but flattened horribly, the result is deceptive. This satellite image was taken sometime around New Year's 2014, in the early morning, and so the sun is in the southeast, casting shadows in a northwesterly direction. Jutting in from the ocean seem to be a number of bluffs, higher than the surrounding landscape. That is not the case at all. What appears to be raised is actually sunken. The greenish land, filled with desert vegetation, is fairly level. Those sandy-colored intrusions are about 35 feet below (not 60), and the cliffs are sheer. Chances of surviving a fall down one of those cliff faces are about nil — but that applies only if one were to jump from the top and touch nothing until landing at the bottom. Depending upon the cliff in question, the fall can be broken. Take a look at this unsettling story from
LAist
:
http://laist.com/2015/07/15/marine_teen_girls_cliff.php
. Those two teen girls only went down 10 or 15 feet before coming to a stop. The cliffs are made of soft soil, and yet look how much damage a 15-foot fall onto soft soil can do!
Pay attention also to the ocean front: following it is a small brown dirt road that is similarly about 35 feet below the land that has the green vegetation.


Note that a simple look at this map makes one of the mysteries disappear: How did Anneka get from her car to the beach? The answer is obvious: She took the military dirt road, which goes exactly to the spot where she was found two days later. Why did the investigators and reporters make no mention of this road? Why did they suggest, through their carefully worded statements, that the only way to get from Las Flores View Point to the beach was by descending the cliffs and then traveling by water?


An armchair investigation, as important as it can be, is hardly a substitute for a firsthand survey of the site. I was far too chicken to make the journey alone. A friend, Soroosch Aidun, agreed to accompany me. I don't have a car, and Soroosch's car was in the shop. So a mutual friend, Reina Schmitz, who was also intrigued by this mystery, agreed to drive us to the site. She took her daughter Chris along for the adventure — and yes, it was an adventure.


We had to choose the right day to go. Anneka was last heard from on Sunday, 2 January 2011. That was holiday time. People did not start going back to work until the following day. To get as close as we could to the conditions of that day four years earlier, we had to choose the Sunday morning closest to New Year's but still on holiday time. That date, near New Year's 2015, was Sunday, 28 December 2014. That is the day we left, at four o'clock in the morning. I warned my three companions that the police would likely take a strong interest in us. "Oh great," Soroosch moaned.


The reason I assumed that the police would be watching us was simple. This is Southern California. If you've never driven in Southern California, and especially if you've never parked on the streets, you won't understand how Southern California works. Say if you find a parking spot beneath a sign that announces "No Parking after 6:00 P.M." You will feel safe in parking your car at noon, but when you come by to drive away at 5:40 P.M. you will find to your dismay that there is already a ticket under your wiper, falsely stating that you were still parked there at 6:00 P.M. Of course, that doesn't always happen. Not all parking officers are quite that mean. So you might get back to your car at 6:00 P.M. on the nose to witness a parking officer in the process of writing your ticket. The parking officer didn't wait until 6:01, or even until 6:00:01. The parking officer cites your car at exactly 6:00:00. No grace period. Also, stand anywhere and watch the traffic officers and other police cruise by. They are perpetually making their rounds, everywhere. They are forever prowling, looking for trouble, and rejoicing when they find it. We would be four peculiar characters hanging around a vista point for hours, looking the wrong way, and taking notes on everyone else's activities. This could hardly fail to arouse suspicions.


We arrived at Las Flores View Point in the darkness at about ten minutes before six o'clock. I had never been to this site before, and I was surprised by what I could barely see. Judging from the Google Map, I had assumed that a thousand feet to the west all I would see were cliff walls, but I was wrong. I could just barely make out the ocean in the distance. The Google Map made it look as though the parking area were level with the surrounding landscape. In fact, just as the news reports stated, the parking area rests atop a small bluff.


I had just purchased from Staples some Tally Counters (Cosco Industries, Made in China, Item #065118). As with anything, if you get one, it will break. If you get two, both will work. It's a law of physics, as you know. I got two. I would keep count of the southbound traffic on the I-5, and I gave my three companions their instructions. Soroosch would keep tabs on visitors to the rest area: when each vehicle arrived, how long it stayed, and when it left. Reina and Chris were to keep track of any activity on or near the military dirt road below us.


The first discovery was that we were almost never alone. There were almost always other cars parked by us. In the darkness, people pulled over to take brief cat naps, or to shoot the breeze, or to switch drivers.


Here is the southbound I-5 traffic talley. The times are not exact to the second, but close enough for what I needed.


| | |
| --- | --- |
| Time Span | # Vehicles |
| From 5:52 to 6:00 | 57 |
| From 6:00 to 6:05 | 72 |
| From 6:05 to 6:10 | 66 |
| From 6:10 to 6:15 | 42 |
| From 6:15 to 6:20 | 71 |
| From 6:20 to 6:25 | 53 |
| From 6:25 to 6:30 | 82 |
| From 6:30 to 6:35 | 68 |
| From 6:35 to 6:40 | 59 |
| From 6:40 to 6:45 | 62 |
| From 6:45 to 6:50 | 49 |
| From 6:50 to 6:55 | 82 |
| From 6:55 to 7:00 | 72 |
| From 7:00 to 7:05 | 72 |
| From 7:05 to 7:10 | 78 |
| From 7:10 to 7:15 | 79 |
| From 7:15 to 7:20 | 90 |
| From 7:20 to 7:25 | 101 |
| From 7:25 to 7:30 | 99 |
| From 7:30 to 7:35 | 95 |
| From 7:35 to 7:40 | 107 |
| From 7:40 to 7:45 | 116 |
| From 7:45 to 7:50 | 98 |
| From 7:50 to 7:55 | 123 |
| From 7:55 to 8:00 | 118 |
| From 8:00 to 8:05 | 146 |
| From 8:05 to 8:11 | 119 |
| From 8:11 to 8:15 | 116 |
| From 8:15 to 8:20 | 128 |
| From 8:20 to 8:25 | 174 |
| From 8:25 to 8:30 | 145 |
| From 8:30 to 8:35 | 159 |
| From 8:35 to 8:40 | 204 |
Here is Soroosch's tally of the visitors to the rest area:


| | | |
| --- | --- | --- |
| Arrive | Leave | Notes |
| 5:49 | 5:53 | SUV |
| 6:02 | 6:03 | SUV, switched drivers |
| 6:06 | 7:45 | Small SUV |
| 6:21 | 7:10 | Car |
| 6:26 | 6:26 | Small SUV |
| 6:34 | 6:51 | Two cars together |
| 6:55 | 6:55 | Vons truck, drove in and right back out |
| 6:59 | 7:01 | Small car |
| 6:59 | 7:45 | Small car |
| 7:01 | 7:09 | Small car |
| 7:03 | 7:05 | Small car |
| 7:04 | 7:09 | Small truck |
| 7:05 | 7:12 | Small car |
| 7:07 | 7:09 | Small car |
| 7:21 | 7:26 | Small car |
| 7:23 | 7:30 | Pickup |
| 7:26 | 7:30 | Small car |
| 7:32 | 7:37 | Small car |
| 7:34 | 7:46 | SUV |
| 7:37 | 7:39 | SUV |
| 7:37 | 7:48 | Pickup |
| 7:39 | 7:48 | Small car |
| 7:45 | 7:48 | Pickup |
| 7:51 | 7:56 | Sports car |
| 7:56 | 7:56 | Car, in and out |
| 8:07 | 8:09 | Car |
| 8:09 | 8:22 | Small car |
| 8:11 | 8:13 | Van |
| 8:13 | 8:20 | Small car |
| 8:13 | 8:19 | SUV |
| 8:16 | 8:20 | Small red car |
| 8:17 | 8:36 | SUV |
| 8:18 | — | Small car |
| 8:21 | — | Small car |
| 8:24 | 8:30 | Van |
| 8:27 | 8:30 | Small SUV |
| 8:33 | 8:36 | Car |
| 8:36 | — | Car |
| 8:39 | — | SUV |
| 8:39 | — | Small SUV |
| 8:39 | — | Mustang |
There were a few lulls, most dramatically between 7:56 and 8:07, when we were the only people in the area. At about 8:30 it became clear that the people who started crowding in knew the place. They knew the view, and they were in love with it.


I was dead wrong about the police taking an interest in us. No police patrolled Las Flores View Point. We saw the occasional police car zip down the highway, but there was no attention paid to the parking area. Why?


Chris propped her telephone against the car window
and made this little time-lapse video.
If this doesn't display, download the video here:
MP4
or
OGV
.
Since nothing at all was happening on the military road or on the surrounding land, Reina and Chris gave up and took a walk down the military road to the beach where Anneka had been discovered four years earlier, leaving Soroosch and me to keep to our tallies. As we were keeping our counts, Soroosch turned to me and said, "Nothing happened to her here." That came as a shock. Of course something must have happened to her here. How else can one explain the bloodied clothes and the knife? I didn't express my outrage at his denial of my firmly implanted ideas. I just asked him why he said that. The highway was right in front of us. The cars traveling down the highway may as well have been in our laps. Everyone on the highway not only could, but would see Las Flores View Point, but would anyone pay attention? It is true that two hundred drivers could whiz by at 65mph and catch a glimpse of some untoward activity off to the side of the road, but such a vision wouldn't even register. It would be too brief. That wasn't the problem, though. How could a marauder get someone out of her car and carry her far away without getting caught, especially after 8:30 when the place is filled with sightseers? It would be impossible. He was right. Nothing happened to her here. She must have been lured away. Soroosch went one further: He was not convinced that Anneka's car remained parked at the site all three days. He suspected that her killer drove it off for a while before returning it. That was certainly within the realm of possibility, but why would Soroosch even think of that? What purpose would such a joy ride have served? Of course, as usual, he proved that he's twenty times smarter than I am, as we shall see below.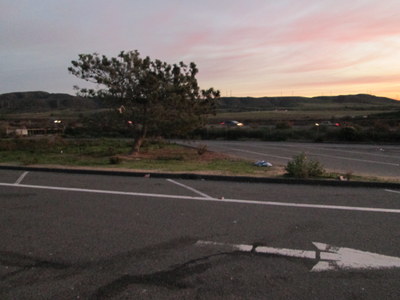 6:38 A.M. Facing east.
At about this time Soroosch took a little photographic tour, after first asking if I could do double duty for a few minutes, and so I did double duty for a few minutes. I'm glad I did!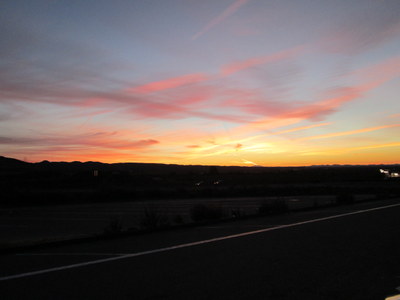 6:39 A.M. Southeast.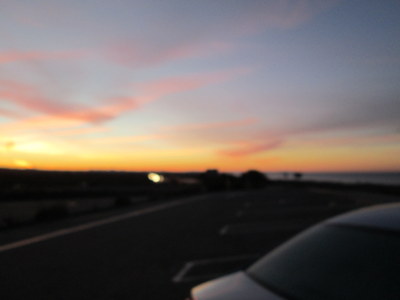 6:39 A.M.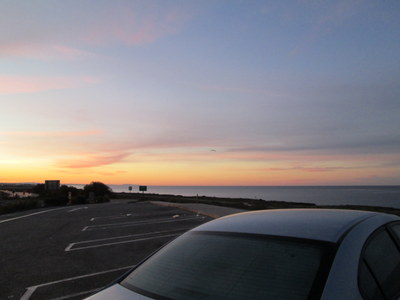 6:39 A.M.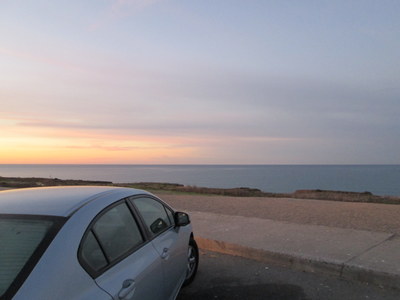 6:39 A.M.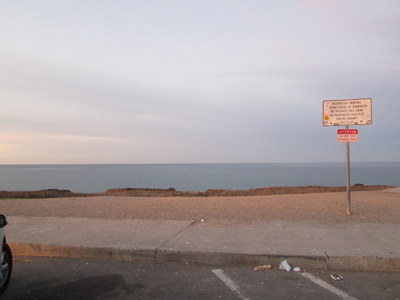 6:39 A.M.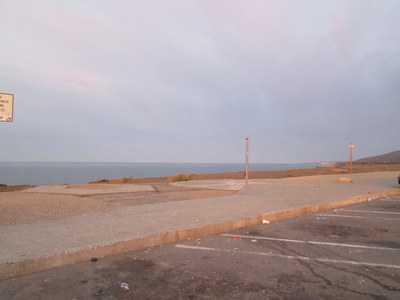 6:40 A.M. Facing west.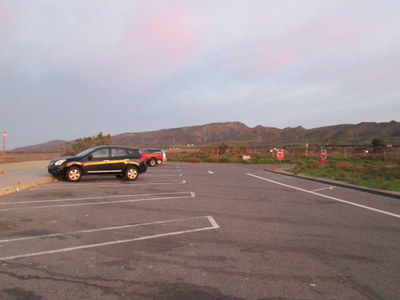 6:40 A.M.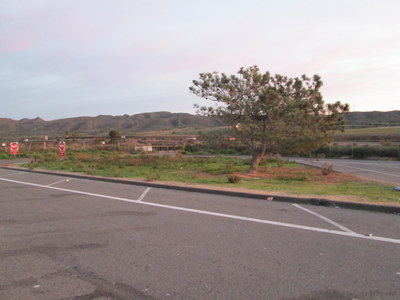 6:40 A.M. Near the center of the frame you can see the yellow gate
that prevents vehicles at Las Flores View Point from entering the military road.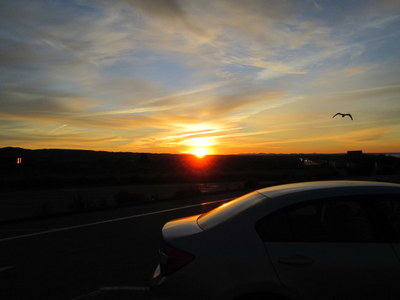 6:58 A.M.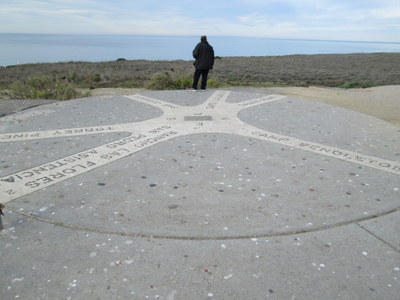 8:44 A.M. The edge of the parking area is at the edge of a bluff. It's about a 30-foot tumble to the bottom, but you wouldn't make it to the bottom. The desert shrubs would break your fall quite instantly.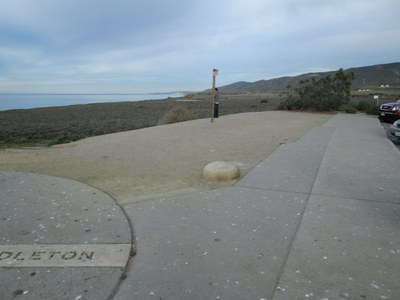 8:44 A.M.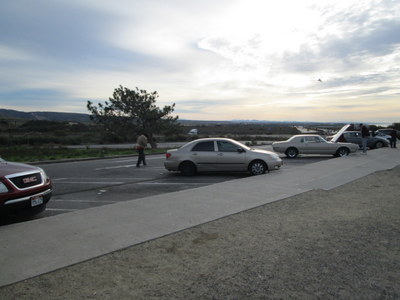 8:44 A.M.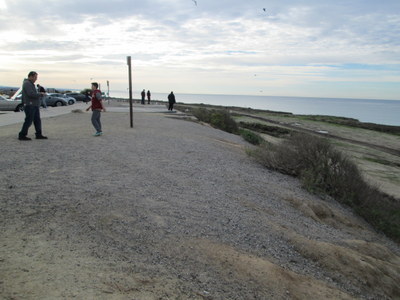 8:44 A.M. Here you can see that the parking area at Las Flores View Point
is truly at the edge of a bluff.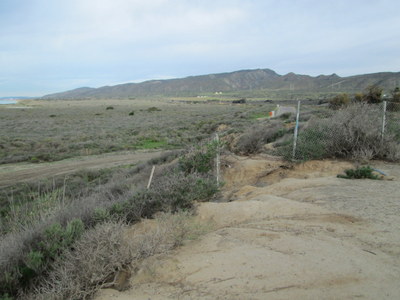 8:44 A.M. Facing north, we can see more of the bluff, along with a safety fence.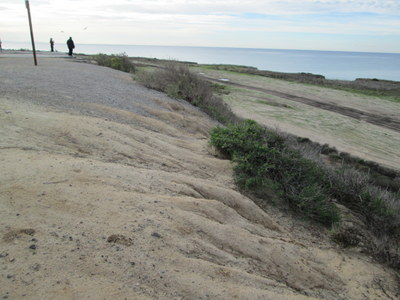 8:45 A.M. Facing southwest.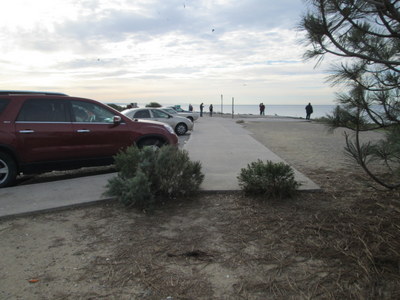 8:45 A.M. At the north side of Las Flores View Point, facing south.

We locked the car (accidentally knocking over Chris's phone-camera in the process) and decided to take a walk. The steel gate that bars vehicles at Las Flores View Point from entering the military road is easily passable by pedestrians. Even had someone not snipped away much of the barbed wire, it would have been easy to get around. We simply walked through the gate, between the bars, where the barbed wire was missing, and decided to head down to the cliff edge of the nearest bluff. Soroosch solved another mystery for me. He and his brother frequently go surfing in this general area. Not at Las Flores View Point or at Camp Pendleton, of course, but in the general area. He assures me that, tide or no tide, the ocean current is always southbound. When they go for a day of surfing, after they set up camp by the beach they need to trek northwards to get into the water. The current will carry them back south where they can retrieve their belongings. So a body placed into the water would indeed float a mile south and wash ashore, even in the absence of tides.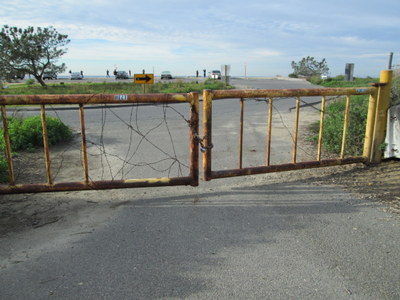 8:46 A.M. On the other side of the fence, looking back to Las Flores View Point.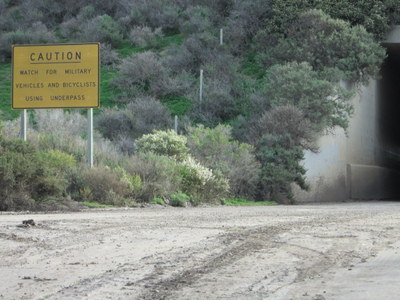 8:47 A.M. North of Las Flores View Point, down a small slope, we arrive at the Old Pacific Highway Trail, just where it turns west to go under the I-5. To my surprise, this part of the Old Pacific Highway Trail is only for military vehicles and bicycles, and the tunnel under the I-5 is so narrow that only one vehicle can get through at a time.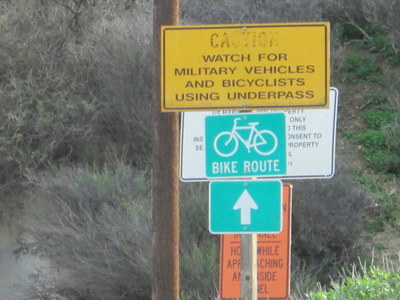 8:48 A.M.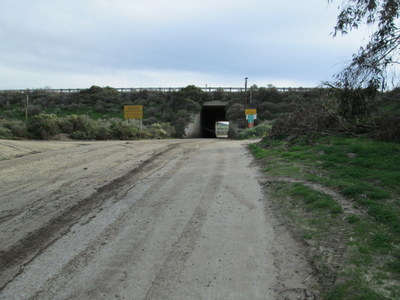 8:48 A.M. Down the military road, just west of the Old Pacific Highway Trail,
looking back at the tunnel underneath the I-5.


8:48 A.M. Soroosch is ahead of me on the military road.
There were no signs anywhere forbidding such a stroll through the countryside,
which I find astonishing.
Note the tire tracks. Some seem to belong to pickup trucks,
and others appear to belong to enormous military ATVs.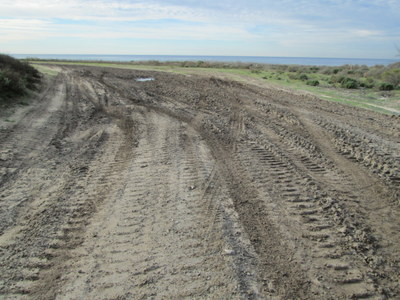 8:49 A.M. These tire tracks are not fresh. They are at least a week old, probably older.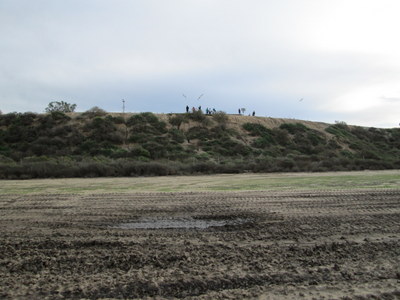 8:51 A.M. From the military road, looking back up at Las Flores View Point.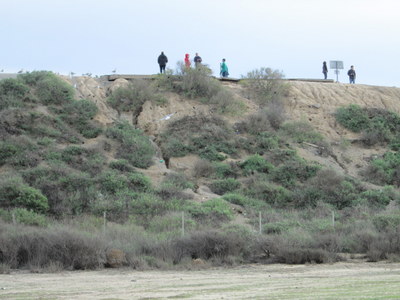 8:51 A.M. Zooming in.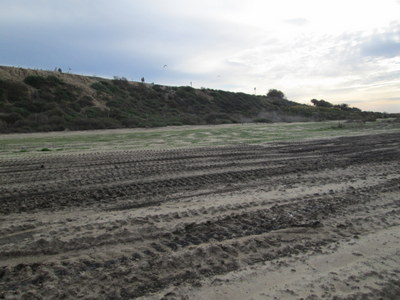 8:51 A.M. This is when Reina and Chris returned from their stroll.
Reina reported that she had found a fully loaded shell
as well as an empty bullet down at the beach.
Soroosch handed Reina her car keys,
and Reina and Chris returned to the parking area while we replicated their stroll.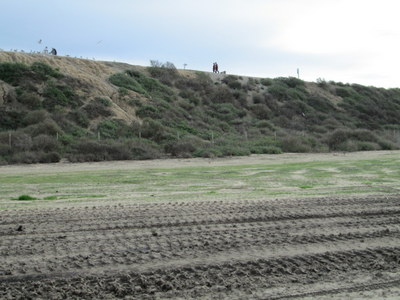 8:52 A.M.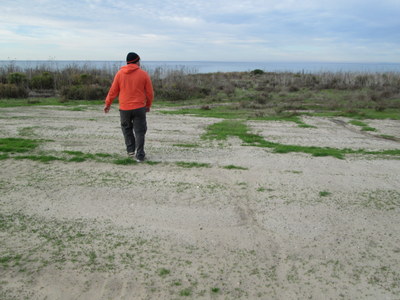 8:54 A.M. Soroosch gets brave and heads towards the oceanside bluffs.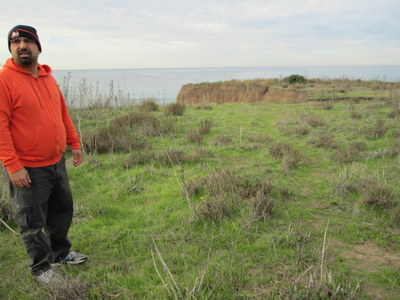 8:54 A.M. We can begin to see how sheer the bluffs' cliffs are. As I learned this day, there are different types of bluffs, so different that I find it surprising that the same word is used to describe different geological features. One type of bluff is a sedimentary deposit on top of a plain, such as the bluff upon which rested the parking area. Another type of bluff is erosion that forms a cliff.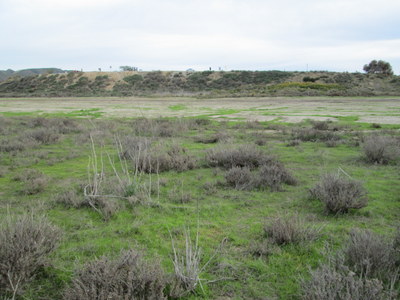 8:54 A.M. Turning around and looking back again at Las Flores View Point's parking area.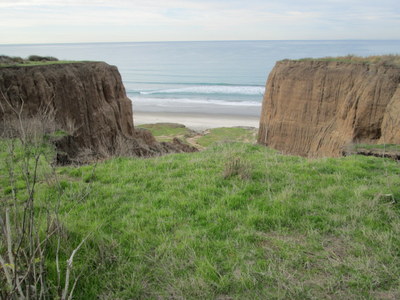 8:55 A.M. Once we get about this close, the ground begins to sound distinctly hollow.
Underneath the topsoil, the earth has largely eroded away.
This ground can easily support the weight of a rabbit, maybe even two rabbits,
but we are risking our lives by getting this close.
The ground could easily give way under us.
Fortunately the ground was dry that day.
I'd hate to make this journey during a heavy rain.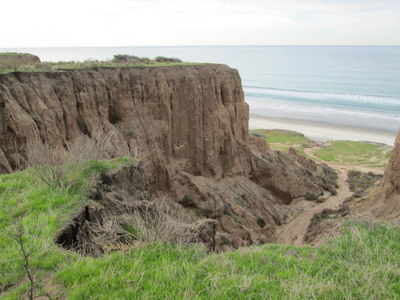 8:55 A.M. Nonetheless, we inch our way a little bit closer.
Here we can see where some ground has recently given way.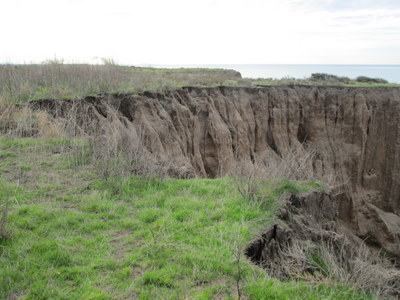 8:55 A.M.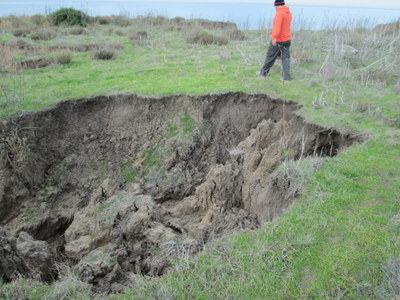 8:55 A.M. More ground that has recently given way.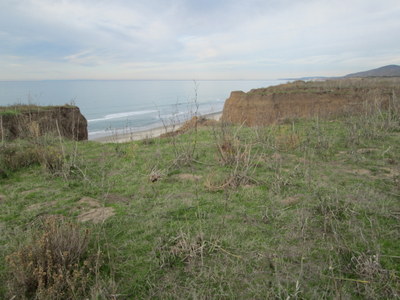 8:56 A.M. We decide it would be best to back off. Now, this is approximately where the news reporters, and maybe the investigators too, guessed that Anneka may have jumped or fallen. If she had done so, yes, she would have broken her back and neck at the very least. Chances that she would have survived the fall are slim indeed. She did not jump, and she did not fall. I'm certain of that.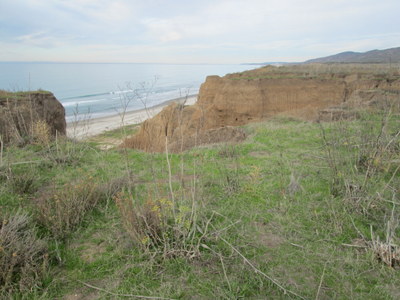 8:56 A.M.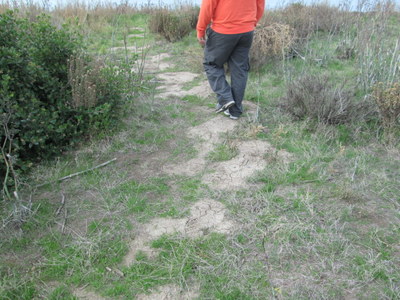 8:56 A.M. Ours are not the only shoe prints here.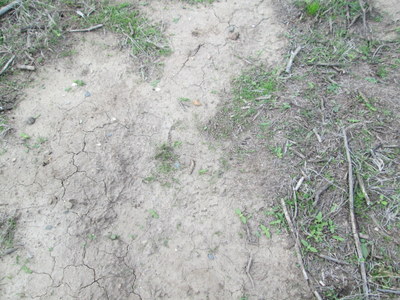 8:57 A.M.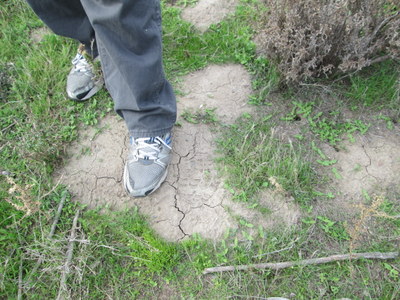 8:57 A.M. Soroosch compares his shoe to the old shoe print.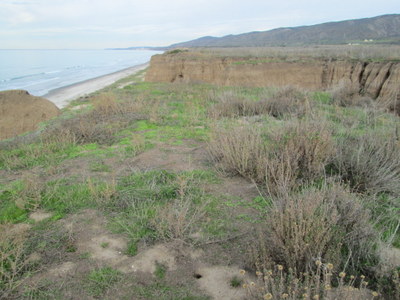 8:57 A.M. We cannot resist taking a few more looks at the bluffs,
but we try to avoid hollow-sounding ground. Here we are looking northwest.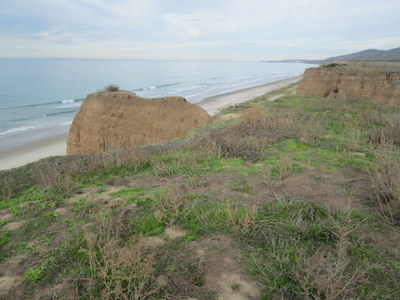 8:57 A.M.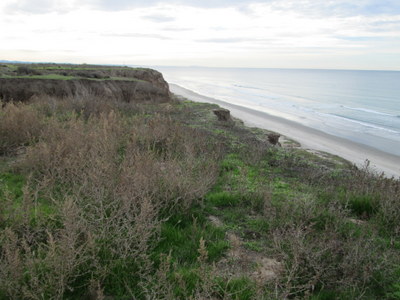 8:57 A.M. I turned around and pointed the camera southwest.


8:58 A.M. What is the difference between bravery and foolhardiness?
Scroll to the bottom of this web page to see Soroosch's photos. His foolhardiness paid dividends.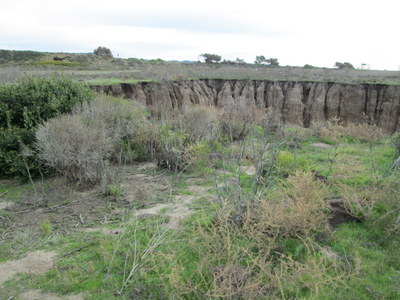 8:58 A.M. A little further south is another bluff.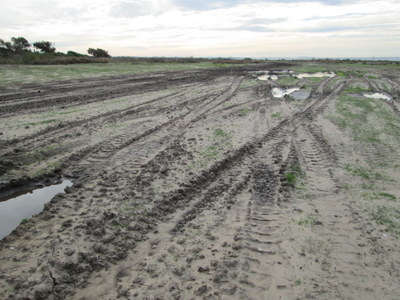 9:01 A.M. Enough of looking at bluffs. We get back onto the military road.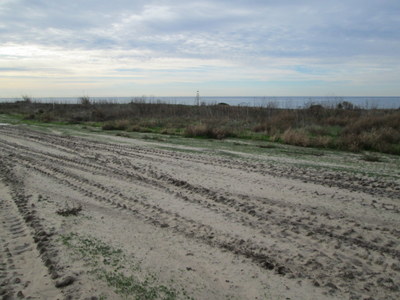 9:04 A.M. What is that in the distance?
How did anyone anchor it into the ground without causing an avalanche?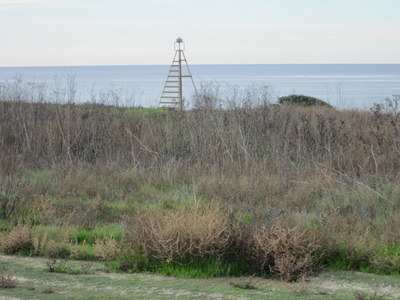 9:04 A.M. We zoom in. What is that thing?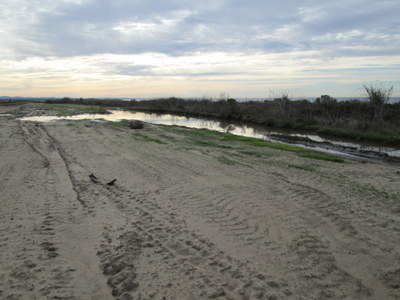 9:07 A.M.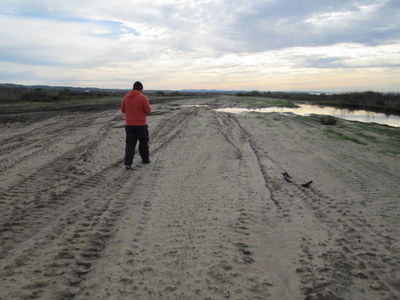 9:07 A.M.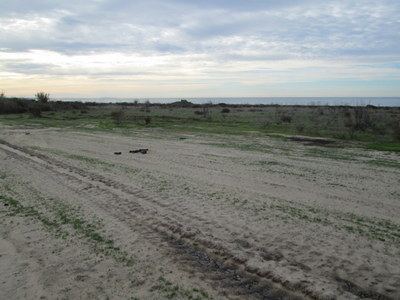 9:09 A.M. Here is another structure right at the edge of the bluff.
Its construction and anchoring seem to defy all laws of physics.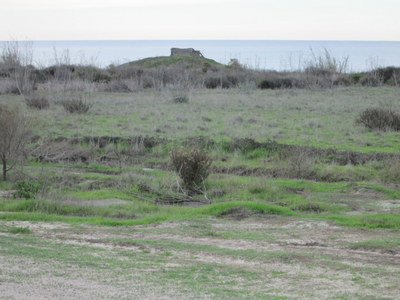 9:09 A.M. I zoom in. I cannot make out what it is, but whatever it is, it isn't anymore.
It isn't an is, it is a was, and it is on the verge of collapse.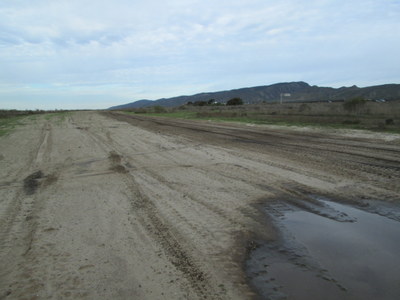 9:10 A.M. I turn around and look back at Las Flores View Point's parking area.


9:10 A.M. Zooming in.


9:16 A.M. Here the military road is dry. It is rocky sand.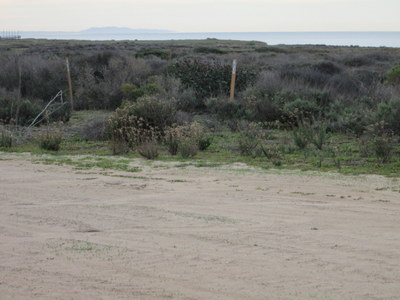 9:16 A.M.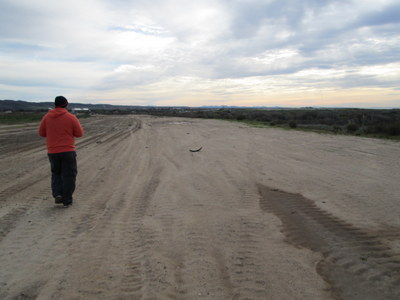 9:16 A.M.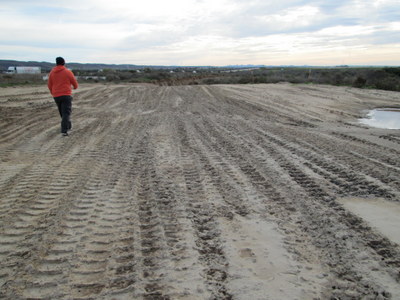 9:18 A.M. We can see the size of the tire tracks.
These belong to vehicles that we do not wish to encounter.
By about this time a military helicopter has flown out to hover above us.
There are no cameras that we can see anywhere on the ground,
and so the military must have a live feed of this area from a satellite.
The satellite must have sufficient sensors that it can detect motion even through cloud cover. After less than five minutes the helicopter flew away and vanished into the distance.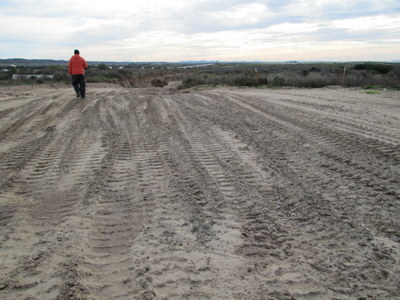 9:18 A.M. So far the military road has more or less paralleled the I-5.
Now it descends into a gulley, where it will make a sharp right towards the ocean.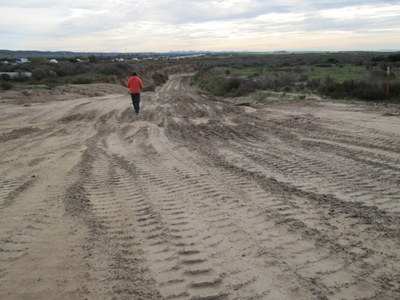 9:18 A.M.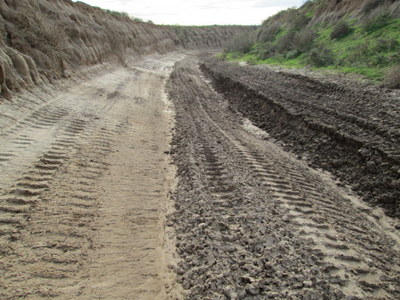 9:19 A.M. Once we are in the gulley, walking becomes a bit challenging.
Stay on the left and lose your balance. Stay on the right and get muddy.
Stay in the middle and risk not being able to get out of the way of a charging armored tank. Now, let me tell you more about this gulley. It is filled with audio illusions. At certain spots the traffic from the I-5 sounds like more than merely traffic. The added sound, which is LOUD, is exactly that of a gigantic vehicle racing towards us from behind, crunching the dried mud along the way. My heart leapt into my mouth. I turned around each time, but there was nothing behind us.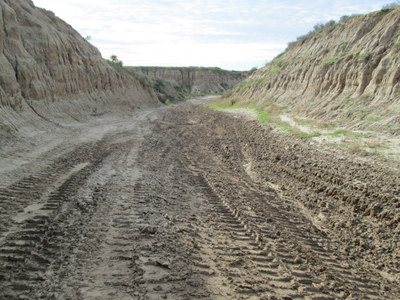 9:21 A.M. I declined to take a photograph of something here.
On the cliff face on the left there was a little tube filled with some sort of oil,
and its small conduit led into the ground.
I assume this is some sort of environmental check.
I wanted that image, but I chickened out.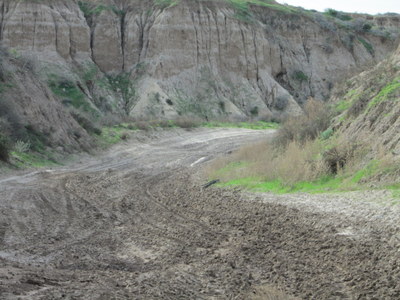 9:21 A.M. Here is where the road veers right.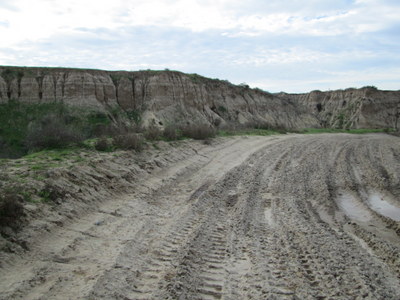 9:23 A.M. Soroosch pointed out that there is a bird in this scene.
I had trouble locating it. At last I did and snapped a photo.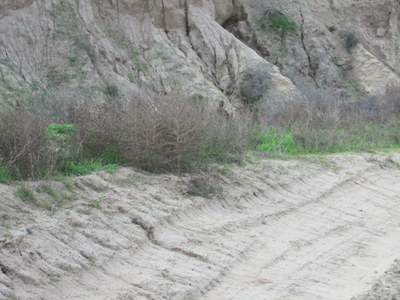 9:23 A.M. I zoom in.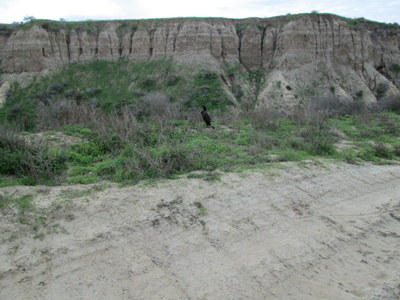 9:23 A.M. We get closer.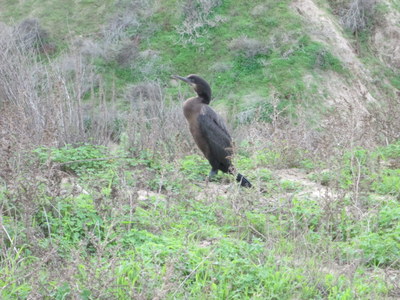 9:24 A.M. I zoom in again. The bird is fearless and couldn't care less about our presence. (Is it some sort of a shag? Someday I'll learn about The Birds of the Americas. Someday.)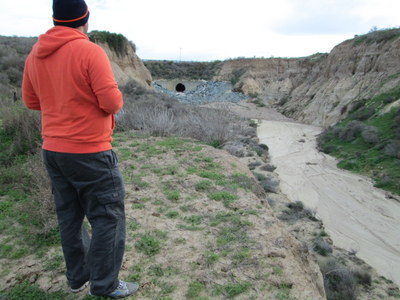 9:24 A.M. Soroosch steps off the road and looks east towards a storm-drain tunnel underneath the I-5 where someone, for some reason, dumped a lot of rocks from a quarry. I assume that's to prevent the storm runoff from forming a pool? This little arroyo bed is filled with tire tracks, and that mystifies me. What could travel along that soft sand? Only the smallest recreational ATV, I should think. I wish this photo were 3D, because in this 2D image we cannot see that another arroyo to the right empties into this one.


9:24 A.M. I turn around and face towards the ocean. The arroyo is on the left, and the military road is on the right. We notice something entirely unexpected in the distance.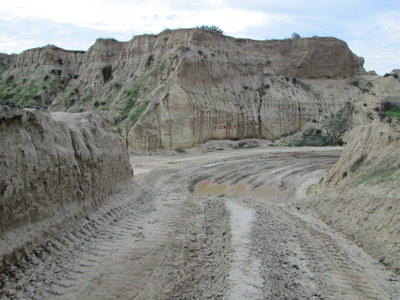 9:25 A.M. Why is there graffiti here? Who put it here? The soldiers don't do this, of that we can be certain. High-school kids are responsible for this, surely.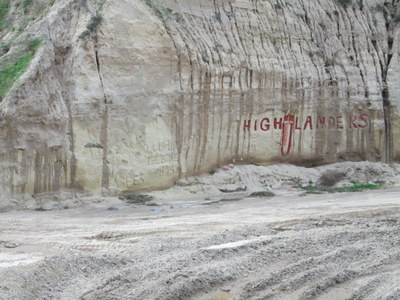 9:25 A.M.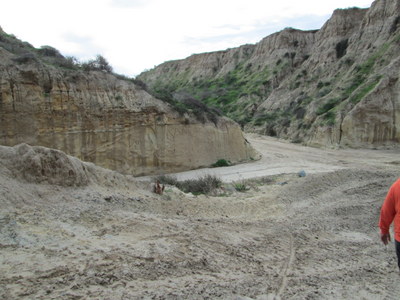 9:26 A.M.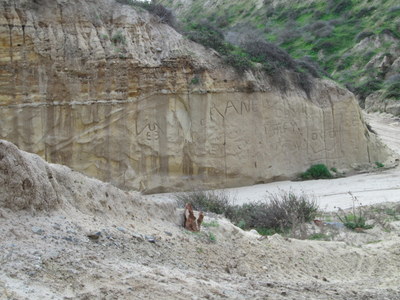 9:26 A.M.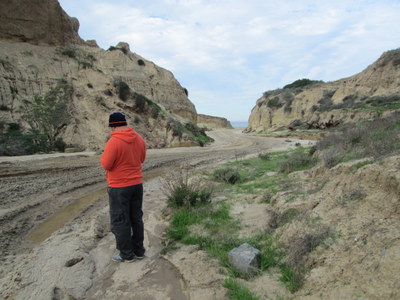 9:26 A.M.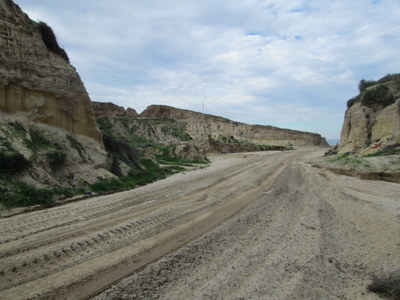 9:27 A.M. A flag pole. Surely this is for military maneuvers.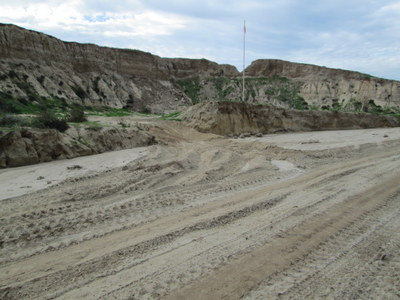 9:27 A.M.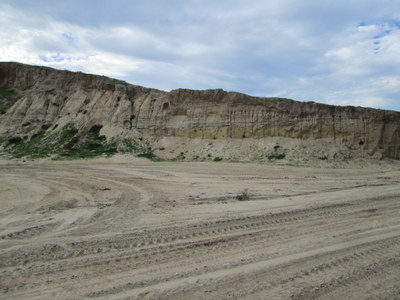 9:28 A.M.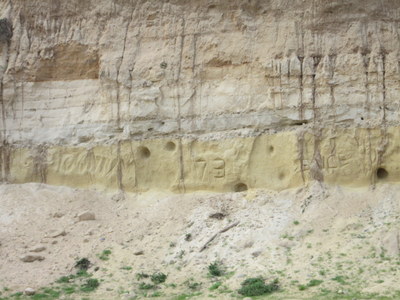 9:29 A.M. 73? This couldn't have been carved in 73.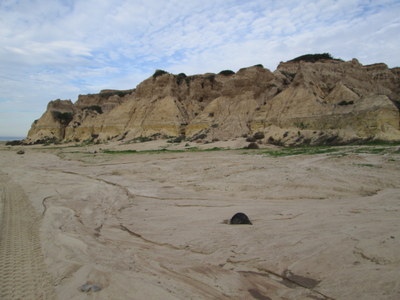 9:29 A.M. This is the spookiest thing of all. There are countless crevasses in this cliff wall. Then we notice that there are countless crevasses in many of these cliff walls. With a sufficient supply of food and blanketing, it would be possible to live here for months without being found.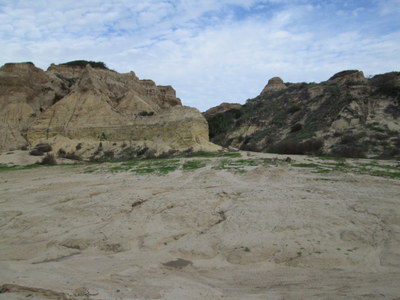 9:29 A.M.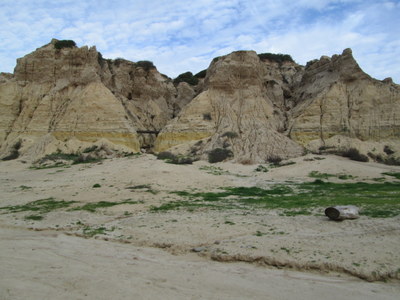 9:29 A.M.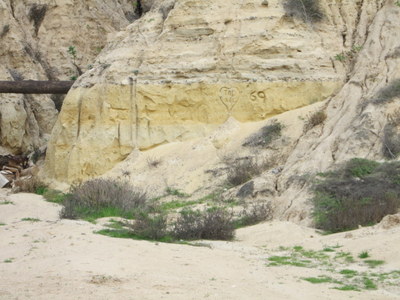 9:30 A.M.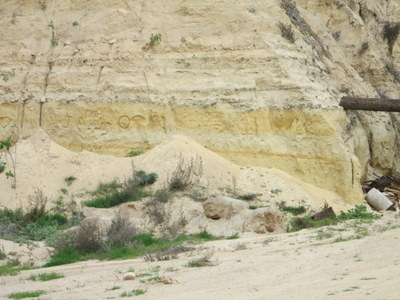 9:30 A.M.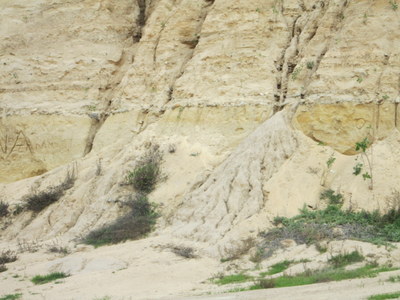 9:30 A.M.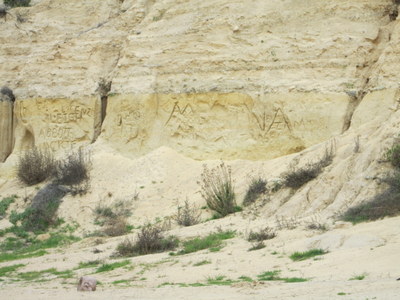 9:30 A.M.


9:31 A.M.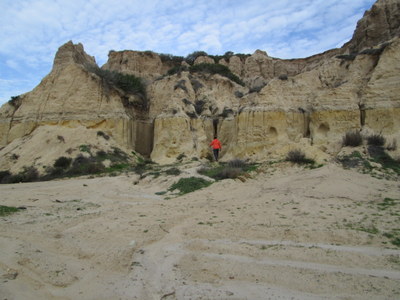 9:31 A.M.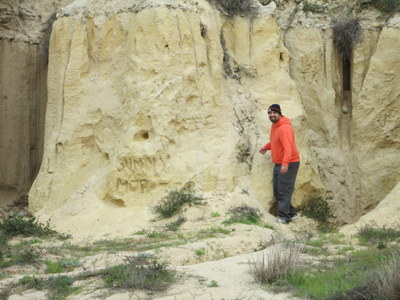 9:31 A.M. Again, 2D just doesn't do this image justice. Soroosch here played a magic trick on me. He took one step to the right and disappeared before my eyes. When he came back out, he said, "He could have kept her down here for who knows how long. Her last hours must have been horrible."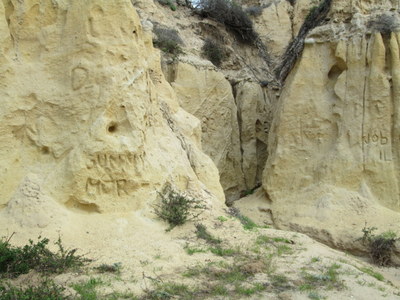 9:32 A.M. This is the crevasse that Soroosch disappeared into.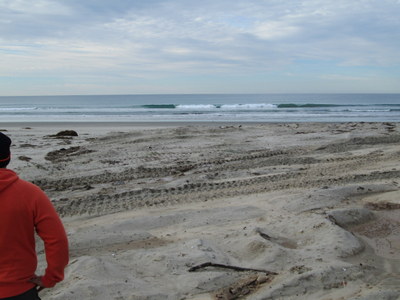 9:32 A.M. The beach where Anneka was found. Look at the size of those tire tracks.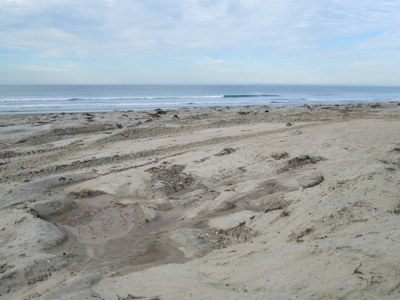 9:33 A.M. The news said that this beach consists of rocky sand.
Wrong. It is fine, soft sand. Very soft.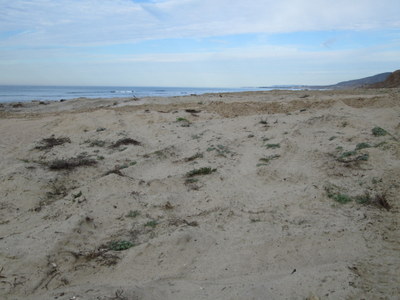 9:33 A.M. There was another oil test somewhere around here,
but it had been broken by vehicles running over it.
Again, I was uncomfortable about photographing it.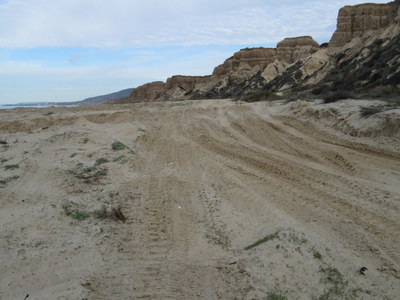 9:33 A.M. Looking up the part of the military road that hugs the shoreline.
We can see the intimidating cliff face of the bluffs stretching out to the distance.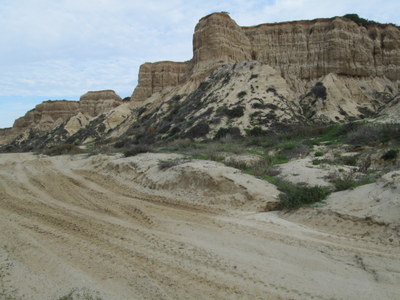 9:33 A.M.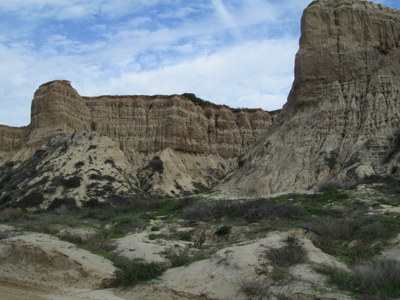 9:33 A.M.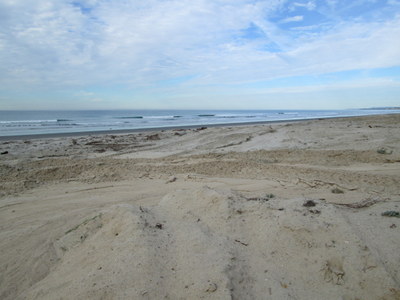 9:34 A.M.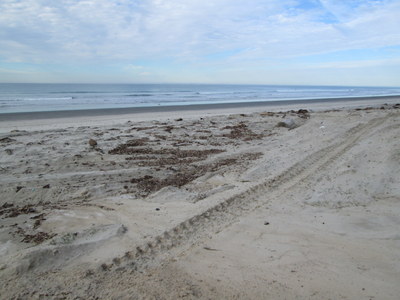 9:34 A.M. It was about here that Anneka was found. This, I guess, is Gold Beach. A friend, after reading an earlier draft of this web page, did some Googling and found some jaw-dropping information: Everybody knows about this beach. It's a popular tourist retreat, and even nudists have tested the law by shedding their bathing suits here. I am having difficulty registering this information. Here are the links:
"Hiking Scenic San Onofre State Beach — From Nukes to Nudes!,"
"Nudists, Park Rangers Battle over Camp Pendleton Beach,"
"Camp Pendleton Beach at Center of Fight over Nudism,"
"HMH-462 Builds a Brotherhood with Warriors Night,"
"Coming Home: A Rare Camp Pendleton Surf with the United States Marines."
So, let us think this through. This is a military camp, designated for use as a military training ground, and yet it is a popular hiking, bathing, and even naturist destination????? I am having trouble understanding this. Furthermore, given the popularity of the site among hikers, surfers, and sunbathers, why do the NCIS investigators pretend to have such difficulty figuring out how Anneka reached the beach? They make it sound like an impossible and unprecedented journey.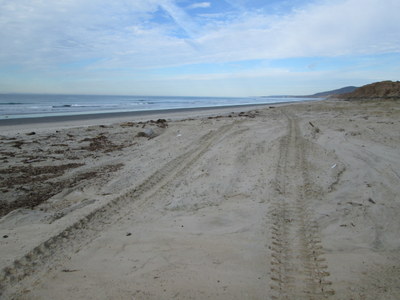 9:34 A.M.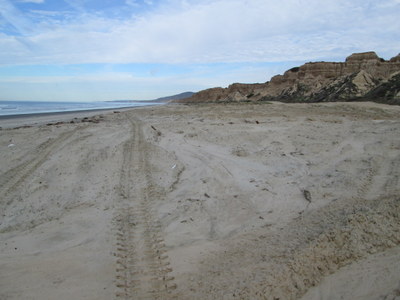 9:34 A.M.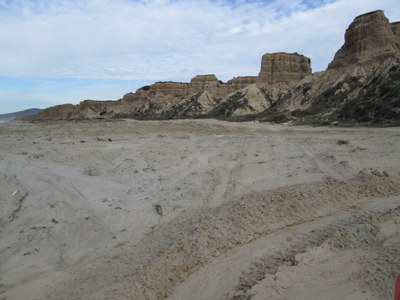 9:34 A.M.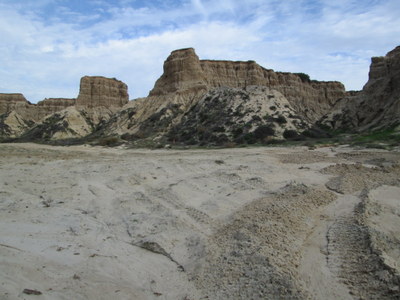 9:35 A.M. She could have been hidden anywhere in here, for an hour, a day, two days.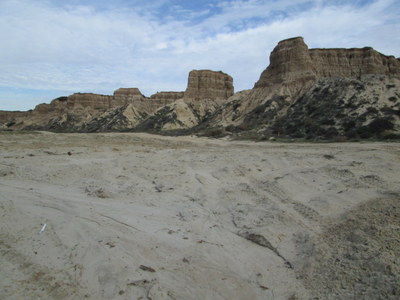 9:35 A.M.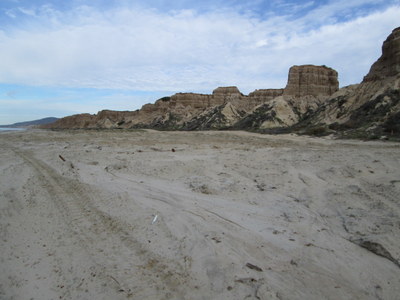 9:35 A.M.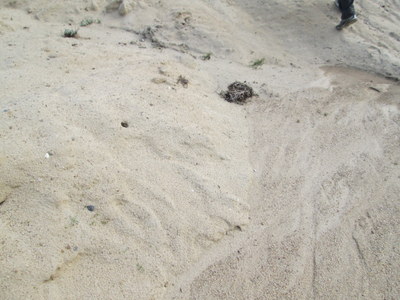 9:36 A.M. Soft sand.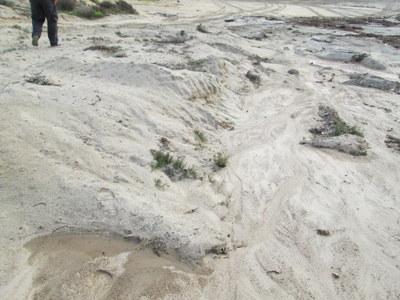 9:36 A.M.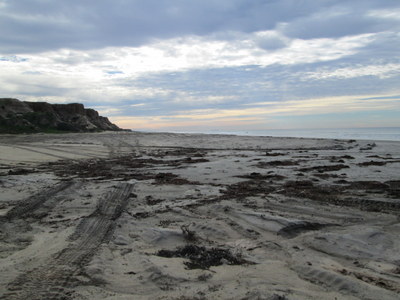 9:36 A.M. We start to head back. I tell Soroosch,
"I don't think that helicopter was for us."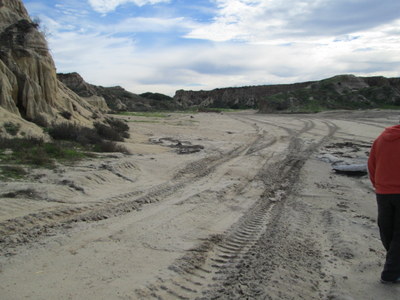 9:36 A.M.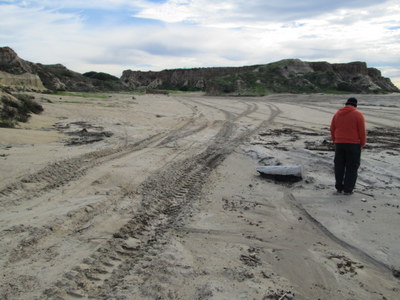 9:37 A.M.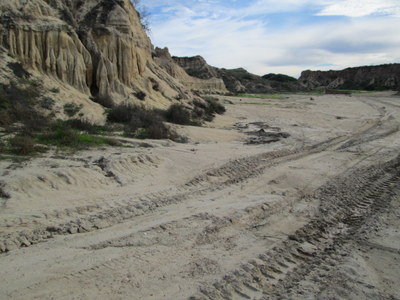 9:37 A.M.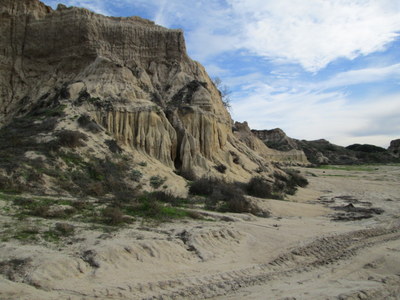 9:37 A.M.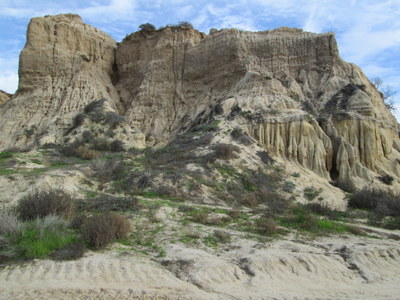 9:37 A.M.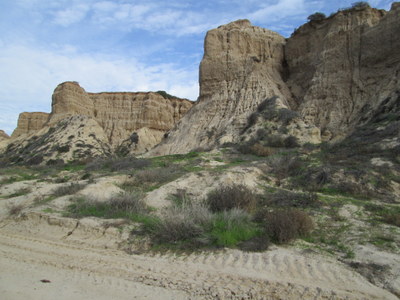 9:37 A.M.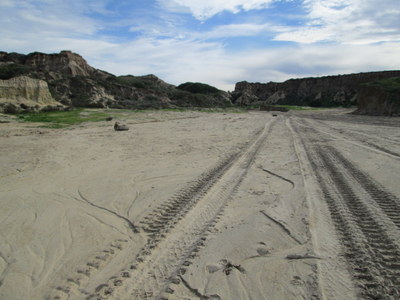 9:38 A.M.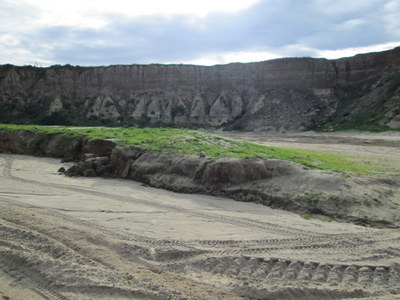 9:40 A.M.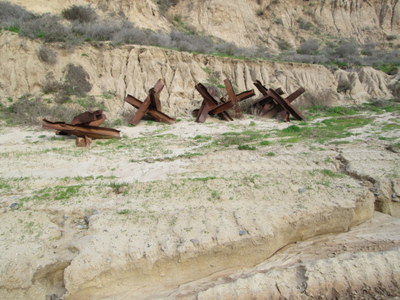 9:41 A.M.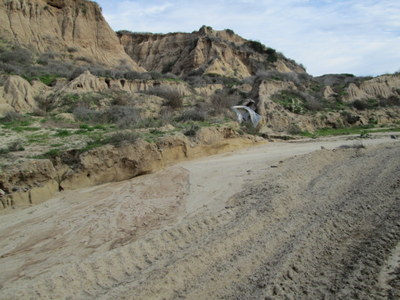 9:41 A.M. The remnants of a portable outhouse.

While Soroosch and I were traversing the landscape, Reina was taking some photos of her own. These further demonstrate the popularity of Las Flores View Point.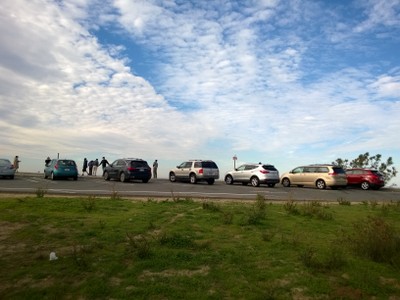 9:43 A.M.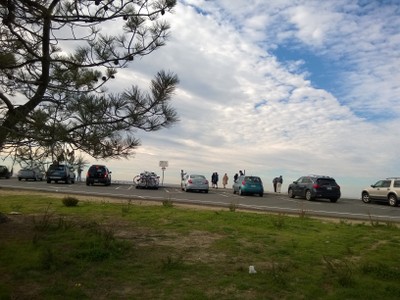 9:43 A.M.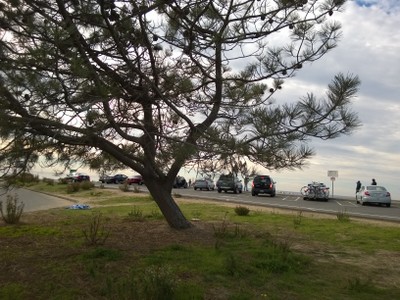 9:43 A.M.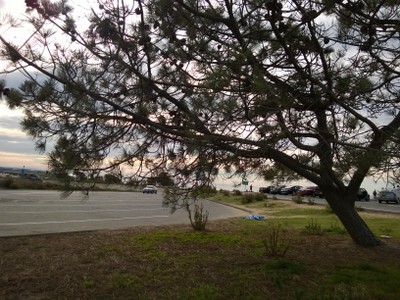 9:43 A.M.


9:43 A.M.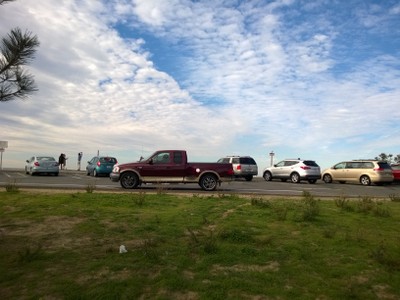 9:43 A.M.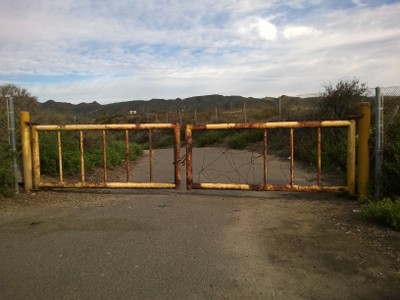 9:44 A.M.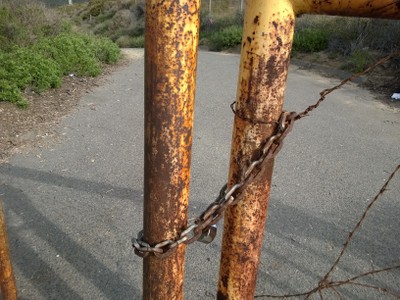 9:44 A.M.


Now let us return to my journey with Soroosch.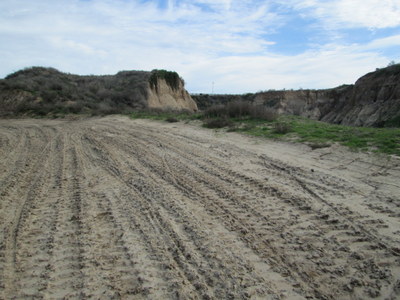 9:43 A.M. The bird is still there.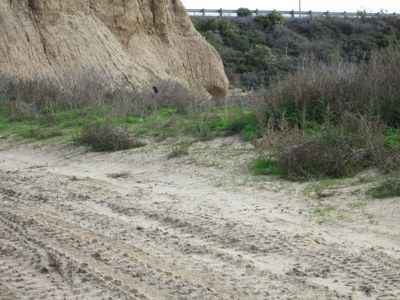 9:43 A.M.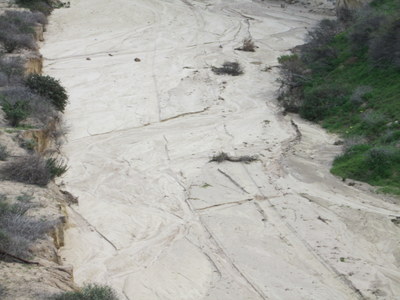 9:44 A.M. The arroyo bed.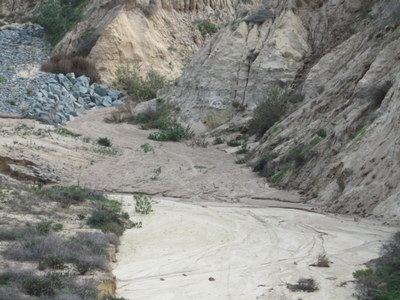 9:44 A.M. I zoomed in to get the image of the other arroyo emptying into this one.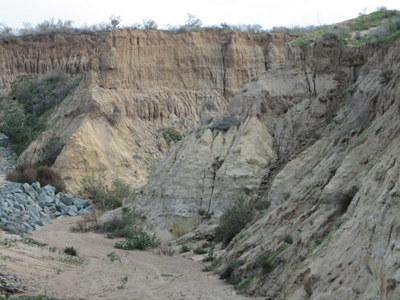 9:44 A.M.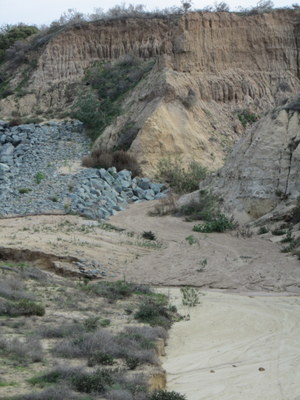 9:44 A.M.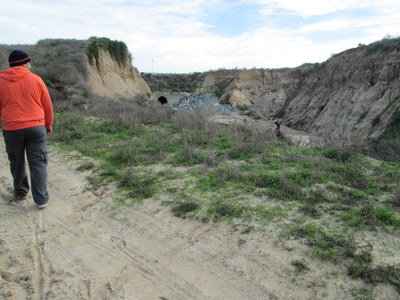 9:45 A.M. The bird is still there, and it still doesn't care.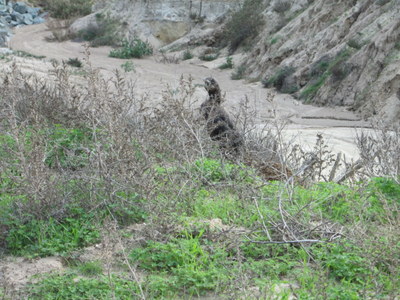 9:45 A.M. Soroosch asked me, "Are you still convinced it was a military person who did this?" Well, after all these years of pondering the news stories, I had become almost totally convinced of that, but now, after seeing what I had seen with my own two bespectacled eyes, I was no longer so sure. As a matter of fact, now I was quite sure it was not a military person at all. It was just some civilian, a doofus, a goofball, a nobody who had done this.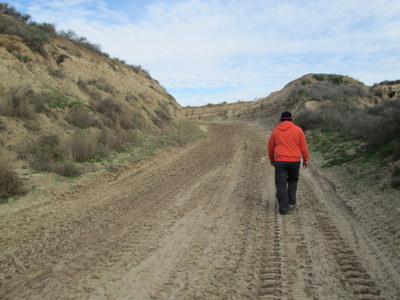 9:45 A.M.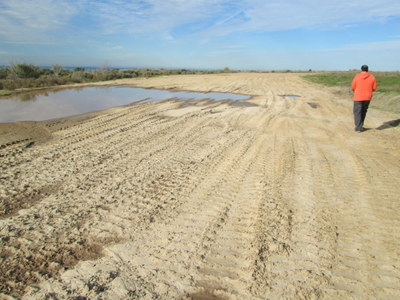 9:50 A.M.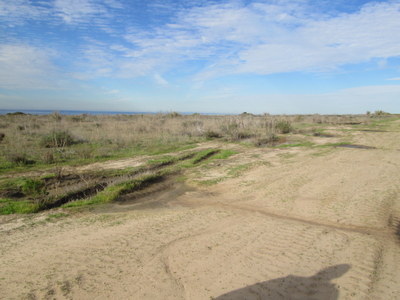 9:53 A.M. There's that little structure again.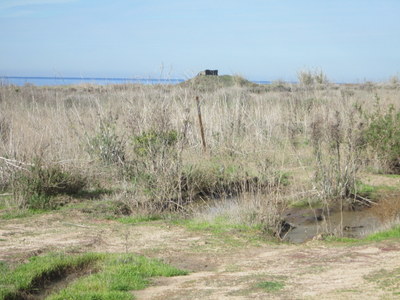 9:53 A.M. Zoom in.


9:54 A.M. Here is a little sign telling us not to leave the road. Just as we were reading it, Soroosch decided to leave the road anyway and take a look at that little structure. Before he could take more than a few steps, I told him to come back. He didn't understand why. "There's a helicopter behind us." He came right back. The helicopter was circling around the beach, examining the spot where Anneka had been found. So that first helicopter had been for us after all. The military knew what we were doing and why. The military brass had long been expecting someone to do an onsite inspection of the crime scene. After circling around the beach, the helicopter approached and hovered, watching us. I wanted to snap a photo, but decided against it. Some things just aren't worth the trouble. After maybe five minutes the helicopter flew away towards the San Onofre Nuclear Reactor (made famous in Naked Gun) and vanished from sight.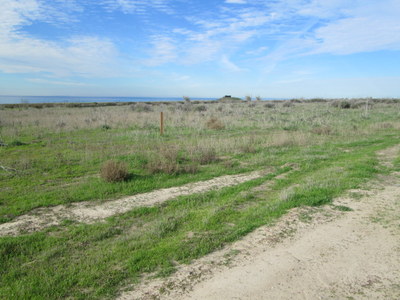 9:55 A.M. Oh well. I'll live out the rest of my days never knowing what that structure is. In a few years it will surely be gone, because the ground underneath it will collapse to the shoreline 35 feet below.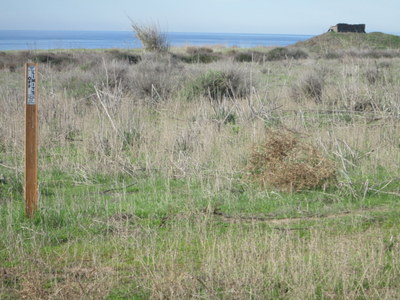 9:55 A.M.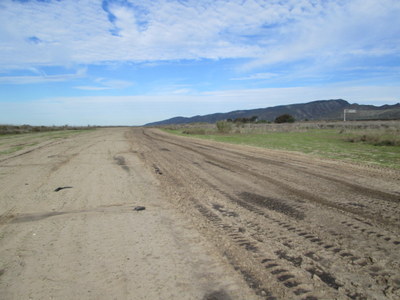 9:58 A.M. Looking towards Las Flores View Point parking area.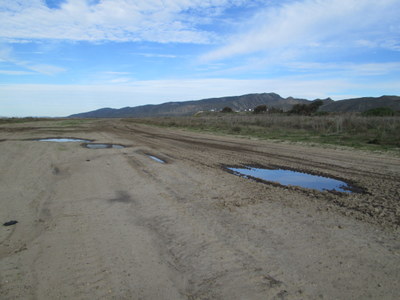 10:01 A.M.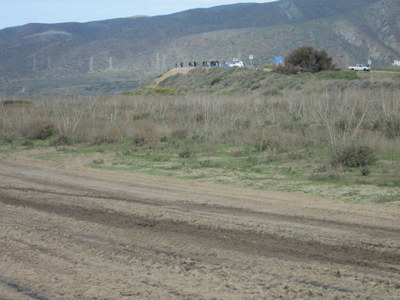 10:01 A.M. We can see how popular this Las Flores View Point is.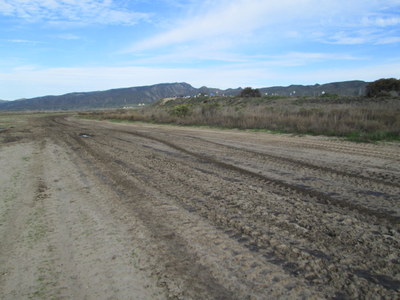 10:04 A.M.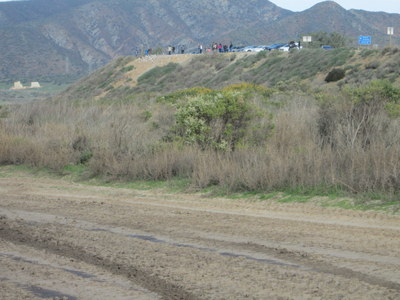 10:04 A.M.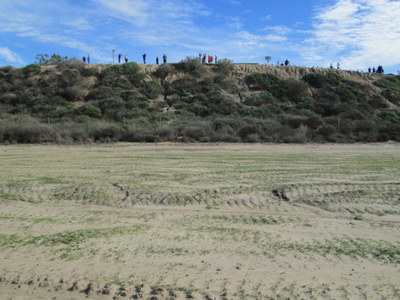 10:08 A.M.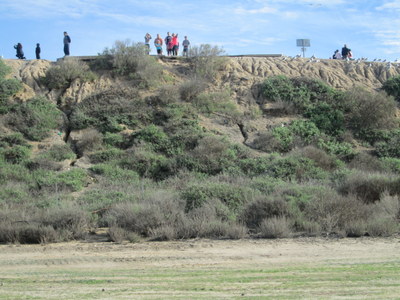 10:08 A.M.


10:09 A.M.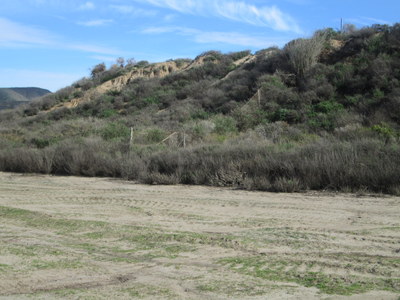 10:09 A.M.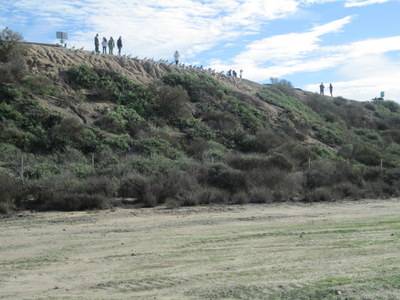 10:09 A.M. Here we can see the safety fence at the bottom of
Las Flores View Point's bluff.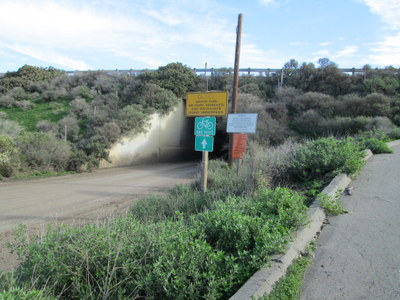 10:11 A.M.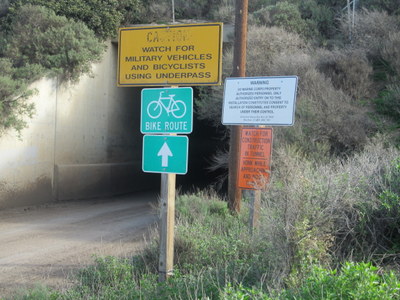 10:11 A.M.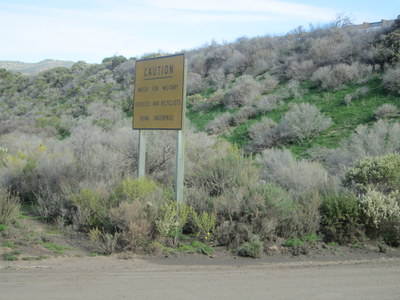 10:11 A.M.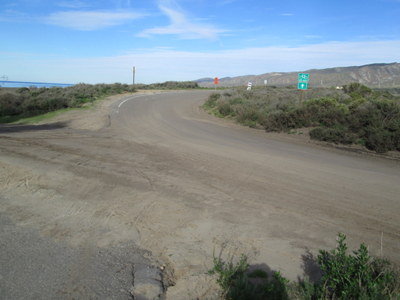 10:11 A.M.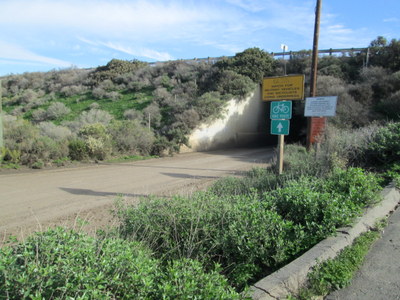 10:12 A.M.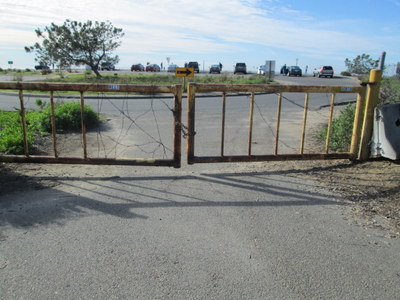 10:12 A.M. This gate is rusty from the sea salt, not from age.
I presume that this gate was not installed until after Anneka's death.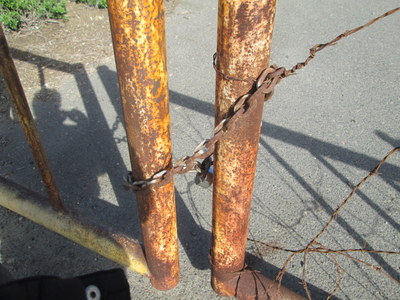 10:13 A.M.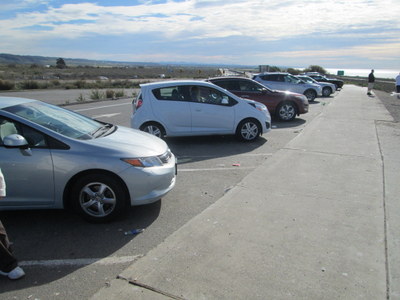 10:15 A.M. We get back to see that Reina has straightened out her car and parked it properly. Well, it turns out that she has done more than merely that.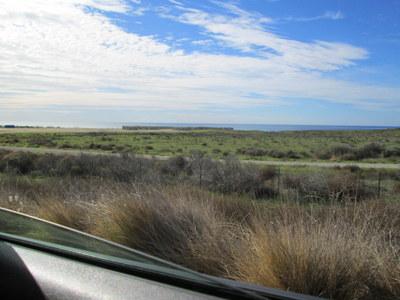 10:19 A.M. She drives us down the highway to the nearest exit,
the 62 offramp leading to Las Pulgas Road.
She stops the car along the shoulder to point something out to us,
something she discovered while Soroosch and I were involved in our peregrinations.
There is construction work here.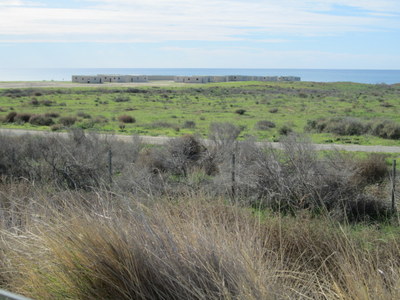 10:19 A.M. I zoom in as best I can. These are little barracks (I think), just sitting on the ground, not anchored and without foundations. They are not level. They will be anchored to foundations soon enough, though. I assume this is part of the military operation.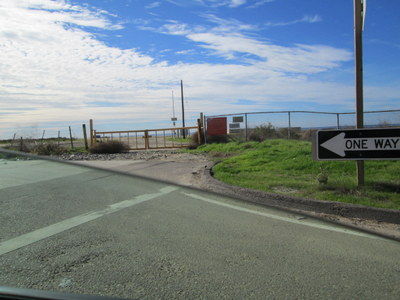 10:20 A.M. This is the gate at the end of Las Pulgas Road
leading to the above barracks.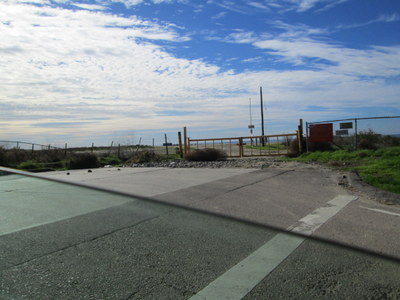 10:20 A.M.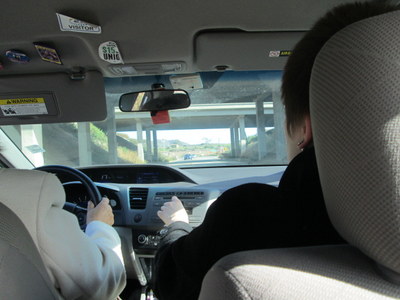 10:20 A.M. We go under the I-5 to get onto the 62 onramp to take us back home.
Reina points out something else.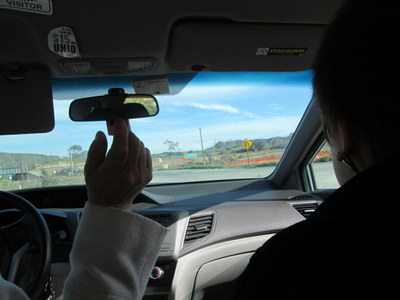 10:20 A.M.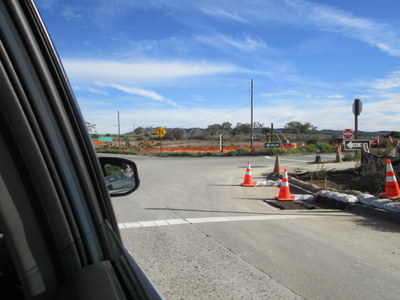 10:20 A.M. There is construction work going on here too.
So the little Las Flores View Point is not so isolated as one would at first imagine.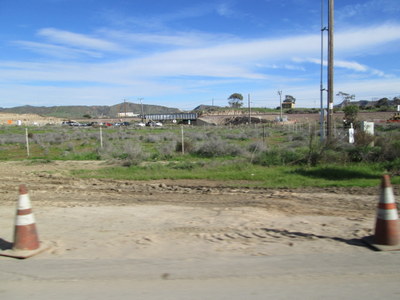 10:20 A.M.

What are we to make of all this? The beach is unquestionably a practice ground for military maneuvers, and yet anybody can walk along the military road and reach it, and anybody can take along a little ATV and race through the arroyos, and high-school kids can come in and party and carve and paint graffiti all along the cliff walls. Am I the only one who thinks this is strange? Despite the dangers of the area — the ease of ground giving way and dropping a tourist 35 feet down to a painful death, the countless crevasses where anybody can hide indefinitely, the possibility of getting run over by a tank — the police do no patrolling of the area. Human activity on the grounds will sound an alarm that scrambles helicopters to the area, but only to take a look and then fly away again. I don't know how to make sense of this. To me it's sort of like building a school's playground in the middle of a trench during wartime.


Now that we know the lay of the land, it is time to go back to the news stories and pull more quotes, but again, not in their published sequence. "Vasta was known for being open, too open, to strangers." Her sister Susan elaborated: "She's like a little girl out in the street. A stranger could walk by, and she'll pick up a conversation with them." Again, this is very important to know. In earlier years, when Anneka was attempting to break into showbiz via beauty contests and nude layouts in men's mags and working in strip joints and hooking, she was quite uppity and would not deign to speak with those beneath her. Now, though, in her enlightened maturity, those days and those feelings and those goals were definitively over. She decided to be true to herself, and her true self was open, sociable, gregarious.


Based on the above information alone, shall we attempt to invent a possible scenario? Let's do that. Suppose that Anneka decided to raise her spirits by taking a look at the beautiful morning view of the oceanside from Las Flores View Point. Suppose that as soon as she parked there, she decided to pick up her mobile telephone and call a relative or friend. Suppose that, right after her phone conversation, she started chatting with someone else at Las Flores View Point in her open, friendly way, remarking how wonderful it would be to walk right up to the shoreline. Suppose that the person chatting with her said, "That's easy! Nobody patrols this road. Anybody can walk down to the beach. People do it all the time." Suppose that this person seemed completely trustworthy. Suppose that Anneka trusted him implicitly. Once they were by the cliffs at the beach, nobody would be watching. This guy would be able to do anything he wanted, for as long as he wanted. Nobody was patrolling Las Flores View Point, and so nobody would notice if some cars were parked there for too long. He started jabbing Anneka with a steak knife to get his point across, and finally beat her and dumped her into the ocean. He walked back alone, taking her clothes with him as trophies. He had her keys and could easily get into her car, and even drive away if he so chose. Maybe he did drive away. If only we could obtain the satellite images from the 2nd, 3rd, and 4th of January 2011, we could see if the maroon Mazda was parked at Las Flores View Point all three days. I don't know how to get those satellite images.


Now we come to the most puzzling mystery of this case. Why were her bloodied leopard-print blouse and sports bra placed into a plastic bag and put into the car, and why was the bloody steak knife placed on the passenger-seat floor? The speculation was that the plastic bag was the ice-bucket liner from her motel room. Why would she take an ice-bucket liner from her motel room before traveling up north for a breakfast or whatever reason it was? This whole episode, it seems to me, is smoke and mirrors. This is tampering of evidence, or misreporting of evidence, designed to puzzle us and distract us from the real clues, to throw us off the scent. Nonetheless, we need to confront this evidence, however tainted it is. Let us think this through. To do so, we should examine more passages from the news reports.


"They know she drowned. They just don't have enough information to know if it was suicide — which her family vehemently denies — or if the emotionally fragile woman met someone on that New Year's Eve weekend who led her toward harm on the Marine Corps base. There's no explicit evidence of foul play." Here Steele paints a picture of an "emotionally fragile woman" who may have committed suicide. Steele goes on: "The days before Vasta's death in San Diego reveal that the former actress continued to lead a somewhat troubled existence. Divorced and in and out of jobs, Vasta was living near her sister Susan Thoreson, a Sherman Oaks resident with whom she was close. Thoreson said her sister began showing symptoms of shaky mental health about six or eight years ago. There were bouts of paranoia and massive anxiety. One of those bouts apparently brought Vasta to San Diego County. 'When Anneka got paranoid, she would run away,' Thoreson said. 'It was that fear or flight stuff.' "


How are we to interpret that? There is an elision in the above passage, and I want to know what was chopped out. Did Anneka show symptoms of shaky mental health six or eight years before? Perhaps she did. If she did, we need to keep in mind a lesson I have learned through my decades on this planet: If someone is paranoid or anxious, there's often a pretty darned good reason for it. Anneka had lived through a protracted hell at Penthouse, made even worse by the years-long legal proceedings, during which she suffered through a lengthy smear campaign. I never had it as bad as Anneka did, but I can assure you, based on my firsthand experiences, that several years of that sort of treatment can truly drive you totally batty. Your friends really will think that you're off your rocker. On top of that, she had recently gone through a divorce, and divorces, I am led to understand, can lead to tremendous, even debilitating, emotional turmoil. Furthermore, if my sources are correct, Anneka had spent some years at a therapy clinic that dealt primarily or exclusively with returning soldiers suffering from severe PTSD. That would drive anyone batty as well, and probably no friend or relative would be able to understand. With that history hovering in the background, we should temper our view that Anneka was having mental or emotional problems. Anxiety was only to be expected. The carefully placed cues about "shaky mental health" that open the news reports and that are hammered home more and more and more as the reports proceed are, in my opinion, more smoke and mirrors. Anneka had lived through decades of torment, and she surely reacted in strange ways, as anybody would, but she came out of it just fine, and was a warm, talkative, open person eager to befriend every stranger. Now, Steele goes so far as to report that "One of those bouts" of "paranoia and massive anxiety" is what "apparently brought [Anneka] to San Diego County." How does Steele reach that conclusion? Anneka had her ear glued to her phone, chatting away with family and friends during her road trip, and it really wasn't much of a road trip: two hours or so from Los Ángeles to Carlsbad, which, for California drivers, is an everyday routine, not out of the ordinary in any way at all. So for the life of me, I don't see where "paranoia and massive anxiety" come into play here. A friend pointed out to me that the time of her drive down the highways would indicate some emotional problems, since it was hardly likely that a well-adjusted person would set forth on a journey at four o'clock in the morning. The evidence we saw did not bear out that assumption. The I-5 was rather populated at four and five o'clock on the morning we retraced her steps.


Fox News took the money story a step further, saying that Anneka had hit hard financial times. How hard were those financial times if she was still driving a car, renting a room at a motel, and chatting endlessly on the telephone? Would her family have abandoned her to bankruptcy and homelessness? Surely Fox exaggerates. Yes, she was out of work, but she was not unemployable, and, from what I can gather by reading between the lines, she was actively seeking new employment. Fox also described Anneka as "unstable," whatever that means.


Let's look at more quotes. "Lithium, for mood disorder, and an empty bottle of Xanax, an anti-anxiety drug, were found in the car. But an autopsy showed no drugs in the dead woman's body. The medical examiner reported shallow cuts on Vasta's wrists, consistent with a halfhearted suicide attempt. She also had two stab wounds on her chest. All of those wounds, the deepest of which was a half-inch, were not serious enough to kill her." This is not objective reporting. It is leading. We do not know how long the lithium and the empty Xanax bottle were in her car. They could have been there for ten years as far as we know. Considering all she had lived through, I would be surprised to find out that she had never been prescribed mood-altering medications. Heck, I've been prescribed Xanax. After what I lived through under my dangerous psychoboss and then three psycho-sado police officers, I sure needed some assistance. I went to the doctor to find out why I couldn't sleep for an entire week, why every time I began to doze off I leapt from my bed and dashed to the corner of the room in abject terror. This was not a deliberate action, but entirely involuntary. She asked me if anything dramatic had happened in my life. I started to explain recent events, and less than 20 seconds later she cut me off to say, "You have post-traumatic stress disorder," and prescribed Xanax, which I had never heard of before. She explained that the pills were extremely dangerous and highly addictive, and that she would give me only eight and would not refill. I took, I think, five over the next few weeks, felt fine, and tossed the remaining three in the garbage. So I suppose, by Steele's standards, I am "emotionally fragile" and suicidal. Nothing could be further from the truth. Steele is good enough to admit that "an autopsy showed no drugs in the dead woman's body." So there. How emotionally fragile and suicidal was she if she didn't need to take medications?


For the sake of argument, though, let us say that she did need to take those medications and simply refused, leading to massive suicidal depression. Okay, maybe, but that does nothing to explain her friendly, outgoing, garrulous, sociable nature and her keeping relatives and friends on the telephone that morning for what were, we can only conclude, friendly chats.


Now let's get to the "shallow cuts" on Anneka's wrists, "consistent with a halfhearted suicide attempt," and the "two stab wounds on her chest." What? Huh? Run that by me again. Let's talk about suicide. Suicide does not come out of the blue. Suicidal depression builds slowly over time. The suicidal person will drop more and more hints. A literate person committing suicide will almost certainly leave a note or a message of some sort as a final explanatory message. Yet according to this article, a sociable, friendly, talkative person, who speaks for hours on the telephone with family and friends, conversations that cause nobody any alarm whatsoever, just suddenly slits her wrists and stabs herself in the chest and jumps off a cliff. HUH??????? That's not the way it works.


Now we are ready to review again some claims that we already quoted above. As you will recall, there was speculation that Anneka jumped off a 35-foot bluff and presumably broke her back and neck upon impact. If so, how did she get into the ocean to drift a mile south? Did she decide that a broken neck and broken back were not going to deter her from going for a swim? Yes, the news story really does get that absurd. Susan was distraught, and it didn't help that investigators and reporters were demanding explanations from her, explanations that she could not possibly provide. She was breaking down under this treatment, which is why she made some bizarre conjectures. "Thoreson says it's possible that her sister, alone or with someone she met, somehow tried to go swimming and was overcome by the cold winter surf." Utterly preposterous. That's the sort of half-baked answer that a distraught person would make when suddenly confronted with horrifying news similtaneously with demands for explanations. It is not a well-thought-out answer, nor could it have been, and I'd be willing to wager that Susan had never been to Las Flores herself. Susan also said, "I think Anneka did make suicidal gestures to herself." Steele puts that comment into context, saying that those "suicidal gestures" would have occurred "that night." What night? As I say, I'm certain that Susan was breaking down under pressure, which explains why she was speaking nonsense.


Again, for the sake of argument, let's go with the suicide hypothesis. After all, as Fox News said, "They're pretty sure it's a suicide." Depression, anxiety, delusions, can make one do the most unexpected things. I have no quarrel with that. So perhaps Anneka's multiple telephone conversations with family and friends that morning were filled with gloom. Perhaps she did tell her family and friends "You won't need to worry about me much longer" and so on and so forth, the typical resigned distress calls of one who has given up. Suppose she stopped at Las Flores View Point for the sole purpose of ending it all. Suppose she carried the steak knife for the singular purpose of carving herself up. Suppose she took along the ice-bucket liner for the sole purpose of wrapping up bloody items to prevent them from soiling the car, which either belonged to somebody else or which she had bequeathed to somebody. This hypothesis might seem to make some sense until you examine the site in person. After you examine the site, you would discover that the hypothesis really runs like this: Anneka slit her wrists, but inefficiently, and stabbed herself in her chest (despite her silicone breast enhancements), removed her bloody blouse and sports bra and placed them in a plastic ice-bucket liner that she had thought to grab from her motel room even though she hadn't settled into it yet, and dropped the bloody knife onto the floor. Then, topless and bleeding profusely, she walked north to the pedestrian exit alongside the highway, down the military road, and then a thousand feet down the plain to the cliff, in front of a large audience of sightseers, not a single one of whom noticed her. Arriving at the cliff's edge, she would have jumped off the 35-foot cliff, breaking her back and neck upon landing, but then nonetheless walked or crawled another few hundred feet to the shoreline to swim in the ocean. Her pants, socks, and shoes just disappeared. Presumably they disintegrated or evaporated or just dematerialized, which of course happens because we see it happen on Star Trek all the time. I don't buy that story, no matter how it is rearranged or harmonized with an imagined reality. Because the NCIS was instrumental in releasing this balderdash, after keeping the news a secret for nearly a year, I was long convinced that it was a military person who had murdered Anneka and that the military was protecting one of its own. After touring the site, my opinion has changed almost entirely.


The cover story does not work at all. Yes, it is possible to commit suicide after parking at Las Flores View Point. By traveling down the military dirt road and heading towards the beach, there are plenty of secluded spots that would be splendid for ending it all. That's provably not what Anneka did. The only hypothesis that seems to make sense is that she walked with a stranger to the beach, and was then attacked by that stranger. Why then would the military try to keep this under wraps and close the case without sufficient investigation, concluding probable suicide? Here's a possible reason. As the four of us learned on Sunday, 28 December 2014, the military monitors the area constantly, surely by a live satellite feed. Whoever was stationed in front of the computer monitor on the morning of Sunday, 2 January 2011, goofed, and goofed big time. He/she/they should have noticed that something was awry with those little two-legged dots crawling across the screen. The next day he/she/they/someone else failed to notice that odd motionless little lump on the beach. Normally, I would guess, the military would be able to explain that away, and very simply: The video monitor did not depict anything clearly enough to reveal a murder in progress. That would be a perfectly reasonable explanation. Or maybe not. I don't know. No matter how reasonable the explanation, this would be a public-relations disaster. Something had to be done to make this go away. So Anneka was kept out of the news for nine and a half months, and those nine and a half months were long enough for the strategists to come up with a mysterious story suggestive of suicide. Then when all was said and done, they could say that they had been actively pursuing the case all along since "Information-wanted signs posted along I-5 from late January to April didn't provide a single response." What's more, according to the Fox News report, the NCIS "wanted to go public over the summer" — half a year after her death! — "but her family asked not to." Fox News went even further: "In the nearly eleven months since Vasta died, NCIS says it has followed a series of leads." What leads? Who provided leads? Who could have provided leads if her death was kept a secret, except for the posters that produced no responses? Rachel McGranaghan told Fox: "This is our last appeal to the media, to the public." She did not bother to say that this was also the first appeal to the media, to the public. If someone goes missing, why ask the public about it nine and a half months later? Who could possibly remember the face of a stranger momentarily glimpsed nine and a half months before? Give yourself a test: Try to remember the face of a perfect stranger that you momentarily glimpsed on the morning of 2 January 2011. Can you do it? I sure can't. The Fox reporter then said on the narration track: "NCIS says if this last appeal for information leads nowhere, the case'll be closed." My, how thorough! Anyway, those are mere subtleties. The story is good enough. Problem solved. Well, problem solved, yes, except that a few people like me get agitated by this sophistry and decide to do their own investigations.


Now let's get back, yet again, to that plastic bag with the bloody blouse and bra, and that bloody knife on the passenger floorboard. How did they get there? If Anneka, bleeding profusely, did not walk topless in front of a crowd of sightseers to leap over a cliff, and if she did commit suicide, then how did her bloodied blouse and bra come to be wrapped in plastic and placed in her car along with the bloody knife? Given this chain of events, we can only conclude that after she drowned in the ocean, she went back to Las Flores View Point to put her bloody clothes and the bloody knife in her car. I don't buy that either. Shall we try for a better guess? Her attacker souvenired her clothes as trophies. He carried them back to her Mazda, drove that Mazda to the Motel 6, and entered Room 160. What was to stop him from doing so? He had all the keys he needed to do this. Just to throw investigators off, he put her blouse and bra into Room 160's plastic ice-bucket liner, and put that liner and the knife into the car. He drove back to Las Flores View Point, switched cars, and drove off in his own car with the pants, socks, and shoes. Why did the killer do this? Or did he do this? If he wrapped the bloody blouse and bra in the plastic bag, and if he dropped the bloody steak knife onto the car's floorboard, then he did so only to confuse the evidence. Nonetheless, I'm not convinced that this is the case. I'm almost certain that the report about the bloodied clothes and bag and knife is fractional, and that the most important details were left out of the news stories. The reports mention nothing about fingerprints. If my guess is correct, the killer's fingerprints should have been on the plastic bag, on the knife, on the door handles, on the keys, on the steering wheel, and in Room 160.


Admittedly, this is all just guesswork. It is not based on anything other than an attempt to fill in narrative gaps, and this is the only explanation I can think of. Well, no, I can think of one other: Maybe he left Anneka's car where it was and drove his own car to the Motel 6. He used her motel key to get into her room and tamper with the evidence, then drove back to Las Flores View Point to dump some of that evidence into her Mazda, and dashed away again in his car. Either variation would fit the known evidence equally well. If you can think of something equally good, or better,
I would love to hear from you
. If my guesses are correct, would that mean that the maniac is still wandering the streets? At first I strongly doubted it, concluding he was likely in prison, but for a different crime. Now, though, I really do think that he's still wandering the streets, and that he's still making trouble, and that he probably has political protection. Until recently, I reasoned thus: What if the military, upon discovering Anneka on the beach, went back to its satellite records? If so, their investigative personnel probably worked out which car belonged to the murderer. Apparently satellite imagery can detect amazing detail. The military's solution would have been simple: Find out who drives that car, check him out, find out what else he's done, and get him behind bars so that he won't do this again and give the base even more headaches. Release a cockamamie story to the press, and all the problems are solved — at least to the military's satisfaction. However desperately the military authorities wished to make this story go away, though, there's still that nagging problem of sexual assault. How to take care of that? Simple: "Jason Keller, special agent with the Naval Criminal Investigative Service, and fellow agent Rachel McGranaghan said that nothing in numerous interviews with Vasta's friends and relatives suggested that the Sherman Oaks resident had met with foul play." Not so! Let's listen to Susan: "I think something happened when Anneka couldn't maybe fend for herself." Let's listen some more: "Vasta's family isn't ruling out the possibility that someone lured her somewhere and harmed her." Let's listen to Susan again: "Here's my fear. What if there is a perpetrator out there, who is going to do this to someone else's sister or mother?" Reporter
Julia Greenberg of the International Business Times
paraphrased Jeanette Steele's wire story, and she seems to have had access to a few lines deleted from the original
San Diego Union-Tribune
publication: "family members worry that she may have been in the car with someone she had met that New Year's Eve weekend." (I'm certain no one else was in her car with her, though I don't rule out the possibility that she and her assassin were traveling together in separate cars.) Now let's take the Keller/McGranaghan conclusion at its most literal: Yes, it is true that Anneka's family had no firm evidence, and could not identify who may have done this to her. How could they identify a person who didn't come into the picture until a few moments after her 8:30 phone call, after which there were no more phone calls? So, in a literal sense, it is true that "nothing in numerous interviews... suggested [Anneka] had met with foul play." True, but entirely misleading. The NCIS would not leave it there, and added more: "Investigators say there's no hard evidence of someone with Vasta in her final hours, and no sign of sexual assault." This is not enough, though. No. The investigators and/or reporters needed to add a topper, which should take care of the problem of her being found nude and should take care also of the failure to make a convincing case for suicide: Just get bogus "readers" to add nonsense to the comments section:
Sil Peña: "How sad, why must our lives end in a why we can't find an answer?"

Rob Viskil: "Sounds like she might have swam out in the ocean and just drowned herself! and they found her body washed up on the shore."

Mike Bishop: "I'm very sympathetic to her family, but come on. Her body has a number of hesitation wounds, she's emotionally unstable, and sometimes a suicide is just a suicide — no matter how much disbelief the family may have."

Alan Phillips: "Most likely it was a suicide, but we'll probably never know for sure."

Sharon Golden: "...I read the article and I personally feel from the evidence collected that she tried to kill herself.... It also sounds like she was bi polar because she was took Lithium but none was found in her blood, clearly one can conclude she most likely tried to end her own life...."

Lisa Merrill: "Mental illness. It is rampant and to me this is what it sounds like."

Mark Allen: "Sounds like suicide to me, and the family is in denial...."

VaLori Michel Haver: "While it would be wonderful if anyone who had a child never harmed themselves, it just isn't so.... It's a shame this woman didn't have a trusted therapist or more mental health assistance when her family noticed her mental deterioration.... A person whose only value had ever come from being nude may very well strip before exiting."
Were those real readers submitting real comments? Why do I have my doubts? The good news is that those comments have been deleted from the current version of the web page, but if you still want to bask in the lunacy,
click on the WayBackMachine
!
If we scour the Internet, we do find real comments from real people who knew or met Anneka. I find it telling that these comments are anonymous, or nearly so. Let's look at them. On a blog called
Venus Observations
we find a comment dated 13 August 2011 from a friend who signed herself "jOaNnE." Now this one is most interesting, for "jOaNnE" apparently knew of Anneka's death before the information went public. Here is her comment: "... NaMaStAe BeAuty ... lOvE & MiSs YoU ... SOo VeRy MuCh ... ....... fOrEveR iN mY hEart ... jOaNnE ... X." On a different page of
Venus Observations
there is a comment, dated 14 February 2012, from another of Anneka's friends, someone who signed herself, simply, "Carole": "Anneka was a dear friend. We had so many laughs. She loved to laugh. She was so much fun. We were so sad when we heard the news. Carole." On this page there is yet another comment from Joanne, dated 26 July 2013: "Anneka was a rare beauty, so full of love & life, vivacious, exciting, charismatic, enchanting, so many twists & turns ... on this earth plane, she is free now ... To continue her journey ... & the immortal soul lives on ... & ... On ...& on ... I love you dear Anneka ... Joanne x." On a web site called
The Catacombs
we find a friend's anonymous comment dated 5 January 2013. This particular friend stands firmly with the family in denying that Anneka was in any way suicidal. On the contrary, she confirms that Anneka "was one of the strongest people I have had the pleasure to have in my life." I would so much love to chat with Joanne and Carole and Anonymous. How can I reach them? Finally, on a web site called
Jim Fisher True Crime
we find an anonymous comment, dated 25 October 2013, from someone who had met Anneka at an event in 1975. Since he didn't really know her, there was little he could say. That's the extent of the reminiscences. Why is there so little?
Not only would I love to chat with Joanne and Carole and Anonymous, I would love to chat with any and all of Anneka's family and friends. I also need to learn all I can about a mysterious Joseph A. Davis
(African-American,
once resided at the Landmark Apartments, 7047 Franklin Ave, Hollywood CA 90028, tried to pass himself off as a "rock-concert manager," supposedly died in November 2013). Related to that, I need to learn all I can about a mysterious corporation called
Naturally Unlimited, Inc.
Anyone who has any leads is encouraged to
contact me right away
. Multiple thanks!